AlloyScan Release Notes
2023.10
October 27, 2023
Monitor your subscription and usage
Introducing the My Organization | Limits and Usage page in the Admin Center. This update offers a comprehensive overview of your subscription and usage details, including important dates and numbers.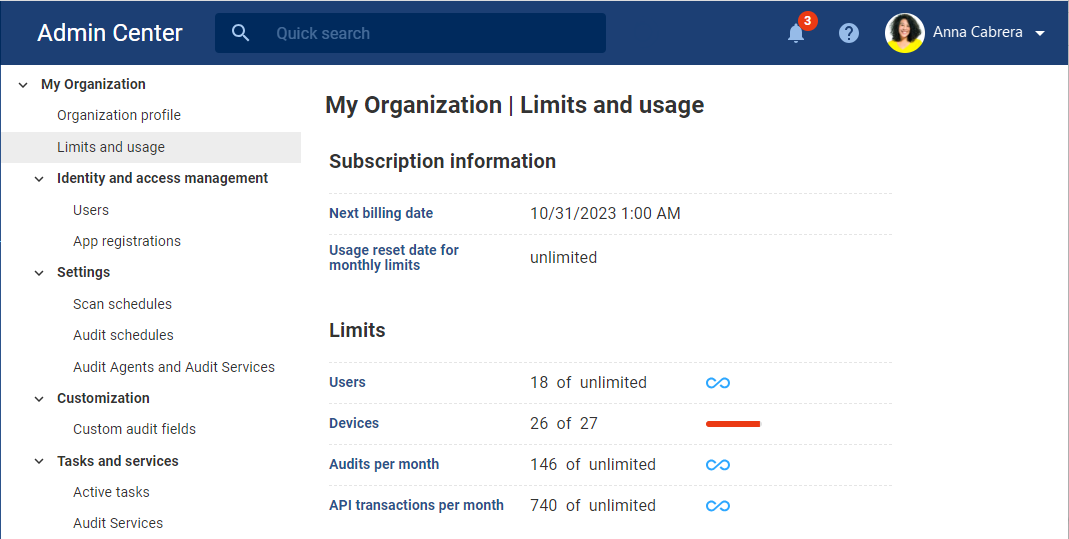 In addition, we have implemented system notifications with three levels of importance: informative (green), warning (yellow), and critical (red).
Informative notifications provide you with advance notice of reaching a license limit, ensuring you have ample time for necessary preparations.

Warning notifications indicate that you are approaching your usage limit, providing you with time to adjust your usage before reaching the limit.

When you receive a critical notification, it means you have reached the limit for the specified resource. These notifications are critical and require immediate attention to prevent service interruptions or additional charges.
Get help online
If you're seeking information on how to use AlloyScan, click on the question mark icon

located in the upper right corner of the interface and choose Help from the menu. This action will open the product documentation in a new browser tab.
Other changes
Sign-on page improvements.

Other minor enhancements and bug fixes.