Managing Personal Event Categories
Personal events are exceptions to the regular working schedule of a technician, such as vacations, meetings, medical leave, and other personal non-standard working or non-working time. Technicians use these events in the Desktop App to create personal working schedules. The list of personal events that are available to technicians in My Work > My Calendar > New can be customized.
INFO: For details on using personal calendars in business logic, see Using Personal Work Calendars.
Each category of personal events can be associated with a particular color, to make these events easily distinguishable on the calendar, as illustrated below. You can assign a specific color for each category and specify whether this category is for absence / time off, or for work time (when the employee is scheduled to work during company's off hours). During "work" events, technicians can be available for communication (for example, during their extra work or when working from home), or busy (for example, during meetings or trainings).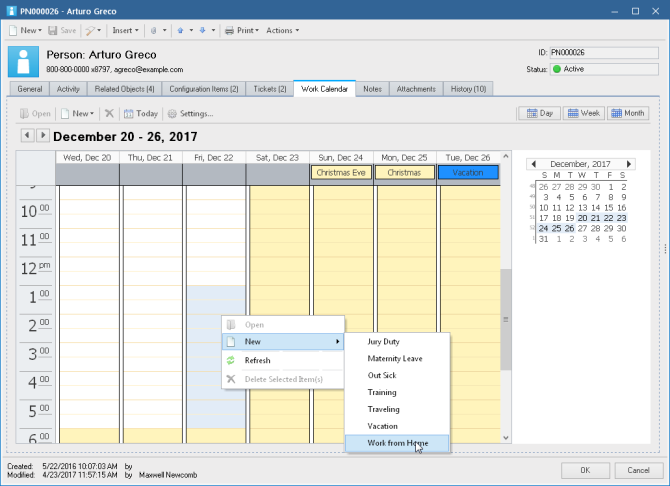 To add a personal event category, follow these steps:
From the Sidebar, navigate to

Workflow and Business Logic >

Organization Management

> Persons > Classification

>

Personal Event Categories

.
Click

New

. The

New Personal Event Category

dialog box appears.
Type a category name. This value will appear in the

New > [

Personal Event Category

]

menu in the Desktop App.
Select a color for the event from the

Color

drop-down list. Alternatively, you can click the ellipsis button and pick one of standard colors, or specify a custom color using the

Color

dialog box.

INFO: You should keep the Enabled check box selected. For details, see Enabling or Disabling Lookup List Values.

If events of this category typically last for one or several days, such as vacations, select the

All day

check box. If needed, technicians will be able to adjust this setting and convert an all-day event to a regular event, i.e. specify its start and end time.
By default, personal events define working time.

If you want to specify work time, select the Is Work Time check box then specify the availability status for that period:

To specify that technicians are available for task assignment, click

Available

.
To specify that technicians are engaged in another activity and unavailable for task assignments, click

Busy

.

Click

OK

.

IMPORTANT: In order to manage their own personal events in the Desktop App, technicians must have the Modify Own Work Time permission on Person objects. The ability to manage personal events for other technicians requires the Modify Work Time for All permission. For details, see Understanding Security Roles.

NOTE: You can change the display order of personal event categories in the My Work > My Calendar> New menu and modify them as needed. You can also disable or enable categories and delete categories that are no longer in use.

INFO: For instructions, see the following sections: Changing the Display Order of List Items, Modifying Lookup List Values, Enabling or Disabling Lookup List Values, Deleting Lookup List Values.