What's New in Version 2022.1
July 2022
Welcome to the July 2022 release of Alloy Navigator Enterprise. There are many new features and enhancements that we hope you will like.
Clean forms with multi-value drop-down lists
Reduce form clutter, improve usability, and streamline your workflow design with the ability to select multiple values from drop-down lists.
Multi-value drop-down lists make forms compact and easier to use, providing a simplified, more intuitive user experience. Instead of clicking a bunch of check boxes, users get a clear selection mechanism, widely used on the web and in mobile apps, where they can choose multiple items at a time. Long lists automatically include Select all items and filtering options.
With its extensible design, the new control facilitates and streamlines workflow configuration, allowing for drop-down lists of any complexity, from simple static lists to flexible, dynamic ones based on custom SQL queries.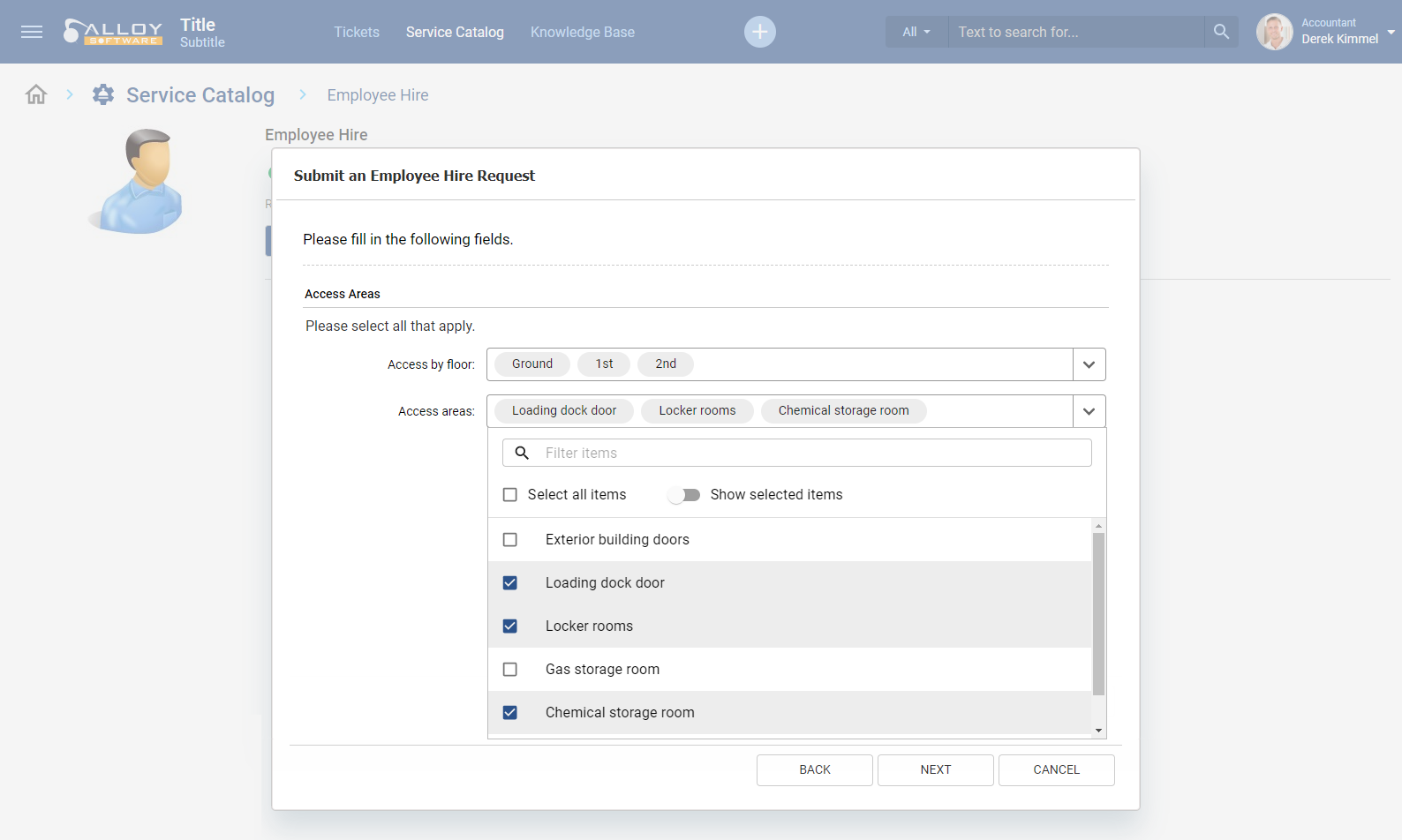 Administer
Alloy Navigator

from the web browser

Quickly fine-tune business logic, manage accounts and permissions, and configure single sign-on providers from anywhere, anytime. The new, web-based Admin Center provides access to core administrative tasks directly from your web browser, without needing to install anything.

Even though the web-based Admin Center has been developed with our cloud customers in mind, on-premise customers can also leverage it to perform main admin tasks on the fly. The Admin Center is automatically installed and configured with the Web App and is immediately available for technicians with administrative permissions.

Stay productive with improved performance
The Web App has been optimized to run faster. You'll certainly feel it, especially when working with hierarchical data structures or browsing through a large number of attachments.
For optimal experience, Alloy Navigator self-assesses its performance and gives practical tips on how to speed up your current data view when there is room for improvement.
Improve security with Trusted Platform Module information
In this milestone, we added a new capability to find out which computers support the hardware-based security features provided by the Trusted Platform Module (TPM) chip. The detection of detailed TPM information comes with the latest version of Alloy Audit Tools included with this release.
INFO: For a complete list of audit-related improvements and bug fixes, see Audit Tools Update Release Notes.
Deliver Linux and macOS audit snapshots over FTP, FTPS, or SFTP
Added proper support for delivery of Linux and macOS audit snapshots from remote sites. You no longer need to rely on bash scripts to deliver audit snapshots over FTP, FTPS, or SFTP. Deployable packages for FTP audit sources now include inventory agents for all supported platforms.
INFO: For instructions, see Help: Administration Guide: Deploying Inventory Analyzer package for FTP delivery.
Updates to the default workflow
The default workflow that comes with this release includes many new features and improvements to existing functionality. See the most significant changes it introduces.
IMPORTANT: When you are upgrading from a previous version, changes to the default workflow may not apply automatically. You may be required to modify your existing workflow to get them. For assistance, submit a request to our Alloy Support Team.
Quick start with reorganized workflow configuration

Get started faster with a well-organized workflow configuration. Configuration settings for quick customization are broken down into categories and subcategories, providing much easier navigation and a cleaner layout.

Make remote support a breeze with TeamViewer integration

Deliver immediate remote support to internal users and customers via TeamViewer. Invite people to your TeamViewer session and remote into their computers or mobile devices as though you were there.

To enable the TeamViewer integration, use the Workflow and Business Logic > Workflow Configuration > Integrations > TeamViewer parameters in the Settings App or Admin Center.

INFO: For details, see Integrations: TeamViewer integration.

See the complete asset management picture with Microsoft Intune integration

Import your organization's mobile phones, tablets, and laptops from Microsoft Intune to leverage Alloy Navigator's robust Asset Management offering and get the complete picture.

To enable the Intune integration, use the Workflow and Business Logic > Workflow Configuration > Integrations > Microsoft Intune parameters in the Settings App or Admin Center.

INFO: For details, see Integrations: Microsoft Intune integration.

Keep an eye on VIP activities

Let service managers and other supervisors keep an eye on tickets submitted by VIP customers (members of the VIP Enhanced Service group). Escalations for VIP activity can now use a dedicated escalation party.

To enable VIP escalations, use the Workflow and Business Logic > Workflow Configuration > Escalation > Incidents / Service Requests parameters in the Settings App or Admin Center.

Speed up your day-to-day operations with multi-select lists

New compact forms with multi-select support save your time and provide a much better user experience, especially in the approval, collaboration, and communication processes.

Choose multiple individual approvers at once

Quickly select approvers from a single list instead of dealing with multiple fields on large forms.

Easily invite people to collaborate

Invite as many collaborators as you need using a drop-down list supporting multiple selection.

Communicate with unlimited stakeholders

Choose multiple recipients in To, CC, and BCC fields when sending email notifications.

Move collaboration ahead

The collaboration workflow has been updated with many improvements, including:

Tighter collaboration with more informative notifications

Email notifications inviting people to collaborate on a ticket have been revised to provide more information to ensure collaborators know when to jump in and work together.

Automatically invite all involved parties to collaborate

All CC recipients you specify when sending notifications about tickets or knowledge base articles now automatically become collaborators.

Boost teamwork within the IT department

The collaboration feature has been expanded beyond its original Self-Service Portal scope. Now technicians can also collaborate on tickets, projects, and knowledge base articles.

Keep knowledge base articles fresh with review process improvements

By default, all newly-created Knowledge Base articles now automatically set their author and owner to the current user. This small but significant adjustment facilitates periodic article reviews to help keep your knowledge base always up-to-date.

Handle changes across multiple related devices

Save efforts when handling changes involving multiple related devices. Instead of a single "related CI (configuration item)," now you can choose any number of devices for a single change request, giving each device an individual work order and receiving a solid history of what devices were modified and how.

Email notifications overhaul

Improve overall communication quality with cleaner, more streamlined notifications.
Analyze more trends with new reports
To continue the success and growth of Alloy Navigator analytics and provide the most comprehensive data to stakeholders, we've expanded the collection of 120+ canned reports. The added reports include:
Library Item Utilization

Increase the effectiveness of your equipment lending library. The report shows the equipment checkout history to reveal how the equipment lending library is being used.

Top N Tickets by Classification

Identify the potential areas of improvement in your Service Desk. Top-N reports display the top N incidents, service requests, and other tickets by status, category, or other classification of your choice.

Computers to Upgrade

Plan hardware upgrades in advance. The report compares the RAM, HDD, CPU, and OS info to thresholds you specify and lists the computers that need to be upgraded or replaced.

Software Licenses Allocated by Person

Get a clear view of software license allocations per person. The report lists all the software licenses allocated to a given user to help you recover or reassign those allocations.
Discover keyboard shortcuts directly from the user interface
For all the people who love the speed and efficiency of shortcut keys, we've provided a handy way to get a listing of all the keyboard shortcuts in one place. Click the question mark in the upper-right corner of the screen and select Keyboard Shortcuts. This will open a help page showing all the shortcuts you can use.

Work faster with automatic hyperlinking
To save you time and effort, URLs that you paste or type into a ticket's description, activity, or any other HTML field are automatically turned into hyperlinks now. For example, "https://www.alloysoftware.com" will become a clickable link https://www.alloysoftware.com.
Quick access to text snippets
The more standard replies, greetings, and other reusable text snippets you have in your back pocket, the more important it is to properly organize them for easy access. Use the new Manage Snippets shortcut on the sidebar to immediately access all your snippets, categorize them for easy search, or create new ones. Managing your text snippets has never been easier.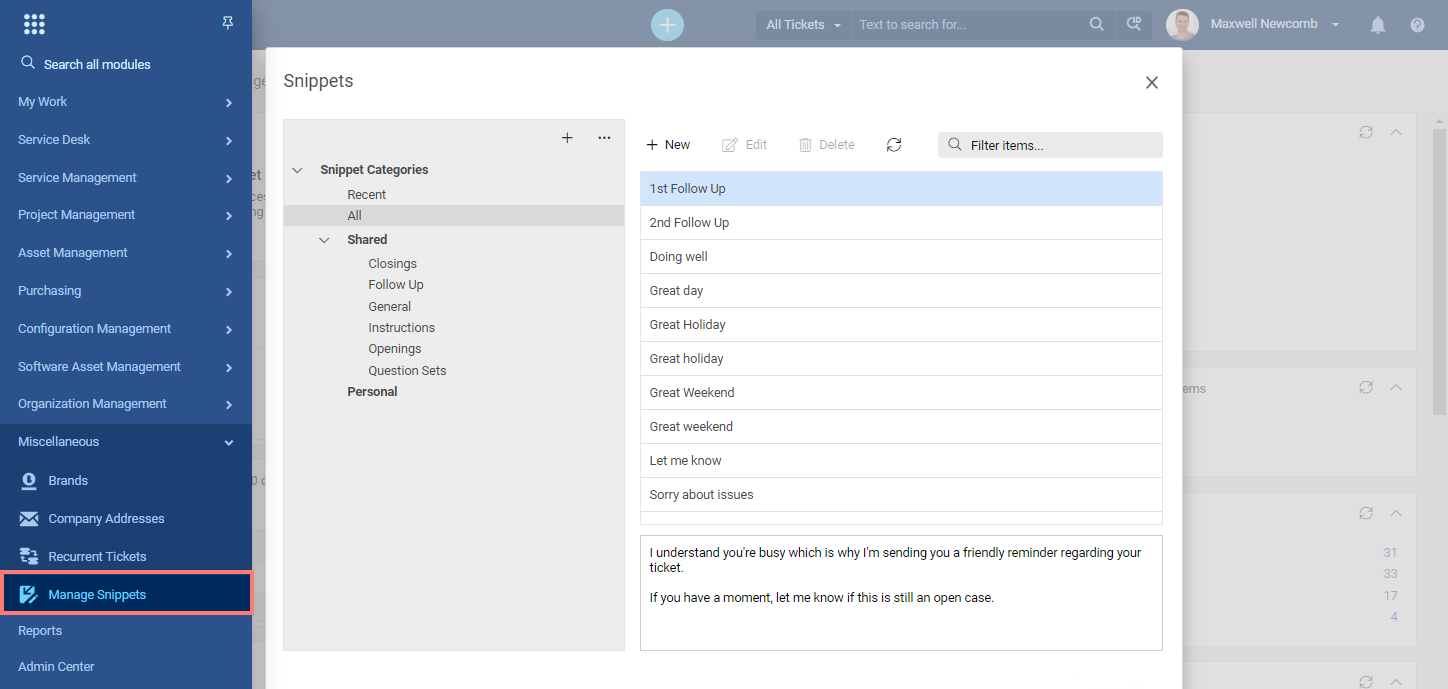 Get more control over concurrent user sessions
Get more control over concurrent user sessions to guarantee that no inactive connections are consuming your user licenses. The Last Activity timestamp in Settings (Accounts & Security > User Sessions) now correspond to the period after which Alloy Navigator considers inactive concurrent user sessions idle and auto-terminates them.
Terminate non-responding tasks
Terminate automated jobs if something goes wrong—for example when a job is not responding. We believe that our cloud customers would especially appreciate this feature. However, manual job termination is available in both cloud-hosted and on-prem environments.
To save your effort, the Automation Server would automatically terminate non-responding tasks after one hour.
Workflow parameters at your fingertips
To streamline navigation through workflow configuration, all workflow parameters are grouped into categories now. Categories are organized into a compact, collapsible hierarchical tree structure.
Admins can control the display order of these categories, placing the most relevant or frequently used at the top.
Encrypt sensitive data in workflow configuration
In this release we introduced Encrypted workflow configuration parameters to secure the use of sensitive data, such as passwords or access tokens. Encrypted data can be read back only by the workflow engine.
Control the appearance of HTML content in mobile apps
Now you can control how Knowledge Base articles, Service Catalog items, and announcements appear in Alloy mobile apps. Standard cascading style sheet (CSS) rules for mobile apps are available in the Settings App (General > CSS Styles > [Object Class] > Mobile Apps).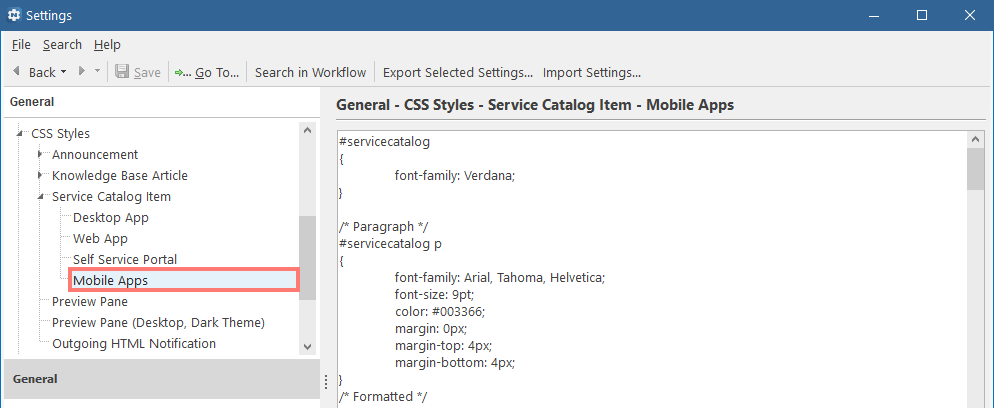 Upgrade to secure token-based API authentication method
To improve security, we removed the deprecated and undocumented option to supply credentials of SQL Server accounts when making API calls.
INFO: For details, see Removal of the legacy API authentication method that uses SQL Server accounts.
More goodies for admins
Take PowerShell to the next level

New features for the Alloy workflow engine offer unlimited opportunities for expansion and integration with third-party APIs. You can not only run PowerShell scripts directly from the workflow but also process the results of executed scripts now. The next evolution of PowerShell integration takes the Alloy workflow engine to a whole new level, delivering unmatched power and flexibility.

NOTE: The new feature requires Windows PowerShell 3.0 or later. For details, see Update PowerShell on earlier Windows versions.

Schedule automated tasks of any level of complexity

Alloy workflow engine now can work as a task scheduler. Once the workflow has been designed, the engine will take care of its on-schedule execution. For example, you can schedule the following tasks in Alloy Navigator:

Sending out automated notifications about upcoming holidays and other regular events
Auto-import IT asset records from an external on-prem or cloud-based system, such as Microsoft Intune
Auto-sync user data with a directory service alternative to Microsoft Active Directory

Upgrade to optimize your audit processing performance

Designating one of the inventory servers as the primary has been confirmed to improve audit snapshot processing by up to 45%, especially for our cloud customers. This is now the recommended way of configuring the audit infrastructure when running multiple inventory services, and that is why the upgrade process will now ask you to designate one as primary.

Your primary inventory server must have the best ping time and lowest latency to the SQL Server. This way, when you audit your distributed network, your Alloy Discovery will process audit snapshots faster than ever before.

Minimize downtime with high availability mode

For those seeking a truly-enterprise operational performance level, we are introducing a high-availability mode. High availability (HA) ensures your system remains operational in the case your server becomes unavailable or has been stopped for maintenance.

A high availability group consists of two or more Automation Server instances, installed and configured. When the primary instance becomes unavailable, the fail-over instance automatically steps in to maintain the availability of Alloy Navigator services 24/7/365.
Other enhancements and resolved issues
Web App
Downloading attachments got faster.

The Task Management Calendar got handier with the ability to copy personal events. To make a copy of an event, drag the event with the CTRL key pressed.

Working with Asset records from within Stock Room forms no longer causes errors.

The first attempt to sign in under a Windows domain account without providing the domain name no longer fails with the "Your account "DOMAIN\username" is not an active Alloy Navigator account" error.

NOTE: LDAP authentication allows Windows domain users to omit their domain name when there is only one "Domain Credentials record in the system. For details, see Administration Guide: Enabling LDAP authentication.

Alloy Navigator now successfully terminates idle concurrent sessions even when the app is open on inactive browser tabs.

Resolved the issue with customizing data views for Networks. Previously, any attempts to customize views in the Networks grid failed with a "GetFilterCriteriaSQL: Unknown grid: Networks_GridBrowser" error.

Forms for creating Recurrent Ticket jobs no longer complain about mandatory fields not being completed when they are actually filled in. The issue affected ticket forms with virtual fields of the Reference type.

The Summary area on the Tracked Software full form no longer gets cut off.

Advanced Search now applies all its Restrict search results to conditions as expected. Previously, restricting search results to a date interval could fail.

Resolved the issue with the attachment browser not adding attachments on wizard-style workflow forms.
Reports
Fixed the "Data at the root level is invalid" error that could occur when re-importing external reports by replacing original ones.

Inserting horizontal lines in reports no longer adds empty spaces underneath.

Resolved the issue with dependent report parameters not getting updated on changes to the main parameter. The issue occurred only when that main parameter allowed multiple choices.
Asset management workflow
Purged the deprecated built-in logic that automatically updated the Purchase Date field of Asset) records whenever they were linked to a new Purchase Order. All such automatic updates should be done by the workflow engine.
Alloy mobile apps and the API
The latest available version of the Alloy Inventory Scanner eliminates the compatibility issue with the recent versions of the API.

Implemented proper handling of invalid XML characters in API requests.

Alloy Self-Service Assistant bot for Microsoft Teams requires that the API is publicly accessible from the internet. The product documentation has been updated to highlight that fact.
Self Service Portal
Customizations made to predefined data views can no longer cause definition errors in other areas of the portal.

Fixed the issue with direct links for anonymous access. Direct links to Self Service Portal objects no longer fail with the "404 Not Found" error, but open specified objects after anonymous users provide their credentials.
Alloy Discovery sync
Resolved the "Cannot drop the table#DSCTempTable" error that could occur when attempting to import the very first computer from Alloy Discovery to Alloy Navigator.
Integration with email
The Mail Connector now applies the

Incoming E-mail Handling

settings

(Mark as read

,

Mark as deleted

, etc.) to all processed mail, including the messages that it did not use in the workflow. Previously, such "untouched" messages accumulated in the mailbox, causing the Mail Connector to attempt to process them at every run.
Database management
A Person record associated with the initial administrative account gets an Active status now. Previously, the initial Person record in a production database was created with a blank status.
Workflow management
Fixed issues related to export and import of workflow configuration parameters.
Automation Server management
Changing the startup account for the Automation Server no longer causes an access violation error.
UI text and online documentation
In order to address the cultural sensitivity of the word "master" we switched the "master license" term to "main license."

Fixed the issue with the Alloy Control Panel showing a short two-digit version number for some products. All installation packages now use a full four-digit version number.

Fixed a typo on the Signing in to the Mobile App page of the Mobile App User's Guide.
Desktop App
Resolved the issue when workflow actions configured to appear on the toolbar were missing from Knowledge Base articles.

Resolved the issue with the Type drop-down list showing inactive values on the PO Item's full form.