What's new in version 2021
October 2021
Version 2021 is one of our most major releases ever. It introduces powerful new features, gives a total face-lift to the Web App and Self-Service Portal, and includes many improvements and customization abilities you and your customers will enjoy.
New versioning scheme
Version 2021 is a direct successor of Alloy Navigator 8. Focused on the continuous delivery of new features and capabilities while resolving issues identified in the existing products, we are switching to a single, year-based versioning scheme for all Alloy Software products. As a version number, 2021.1 provides much more visibility than, for example, 9.1, indicating the release date (actually, the year) and the release number within that year.
Introducing single sign-on
Set your users free from memorizing passwords and let them focus on the actual tasks. The added support for single sign-on (SSO) allows your technicians and end-users to sign in to Alloy Navigator apps with the existing accounts they already use in the organization.
SSO is an authentication scheme that enables users to seamlessly and securely access multiple apps and services using just a single set of credentials. It is also an excellent tool for IT admins to manage user identities in a single place and streamline access requests connected to new hires and terminations.
NOTE:Alloy Navigator 2021 includes preconfigured SSO integration with Microsoft, Okta, and ADFS. You would need to take only a few steps to complete the configuration. You can also add other SSO providers as long as they support OpenID Connect (OIDC). For details, see Settings Help: Managing single sign-on (SSO) providers.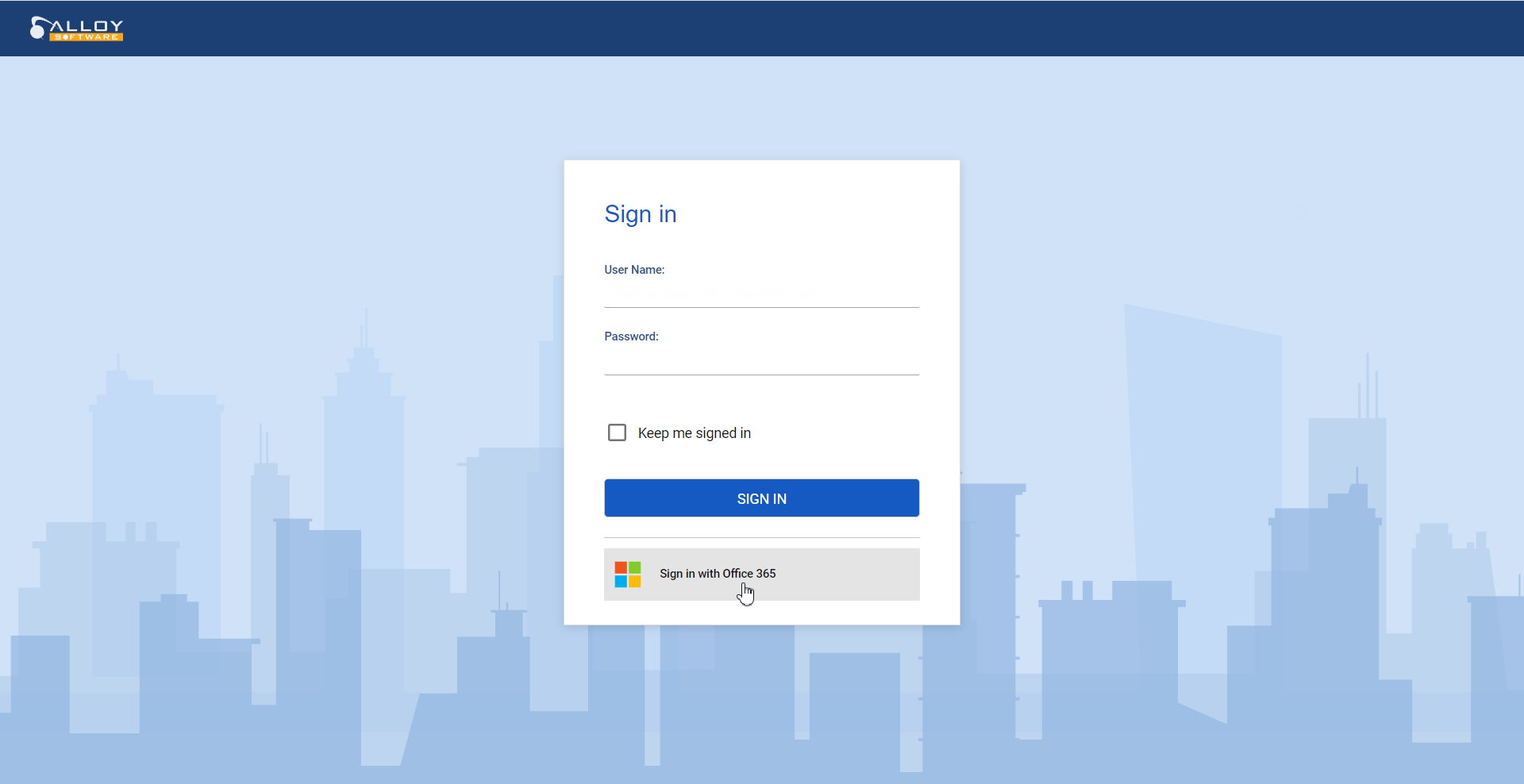 Self Service Portal overhaul
We've turned the Self-Service Portal into a modern, powerful web application your customers and internal users can rely on.
Awesome homepage with customization feature
The Self-Service Portal homepage now offers an informative dashboard, with an impressive search box for ready-to-use solutions. Widgets get collapsible and provide quick access to everything your employees need for self-serve, including their open tickets, latest activities, and approvals. A new customization feature and a pack of beautiful templates allow the administrator to easily change the homepage's layout and the look and feel of the whole portal.
INFO: For instructions, see Administration Guide: Customizing the SSP's homepage.
Self-Service Portal becomes more user-friendly and cutting edge. Your customers will appreciate a brand-new hamburger menu for quick navigation and an improved Latest Updates widget, now showing the essence of those updates (i.e., the text of the latest activities).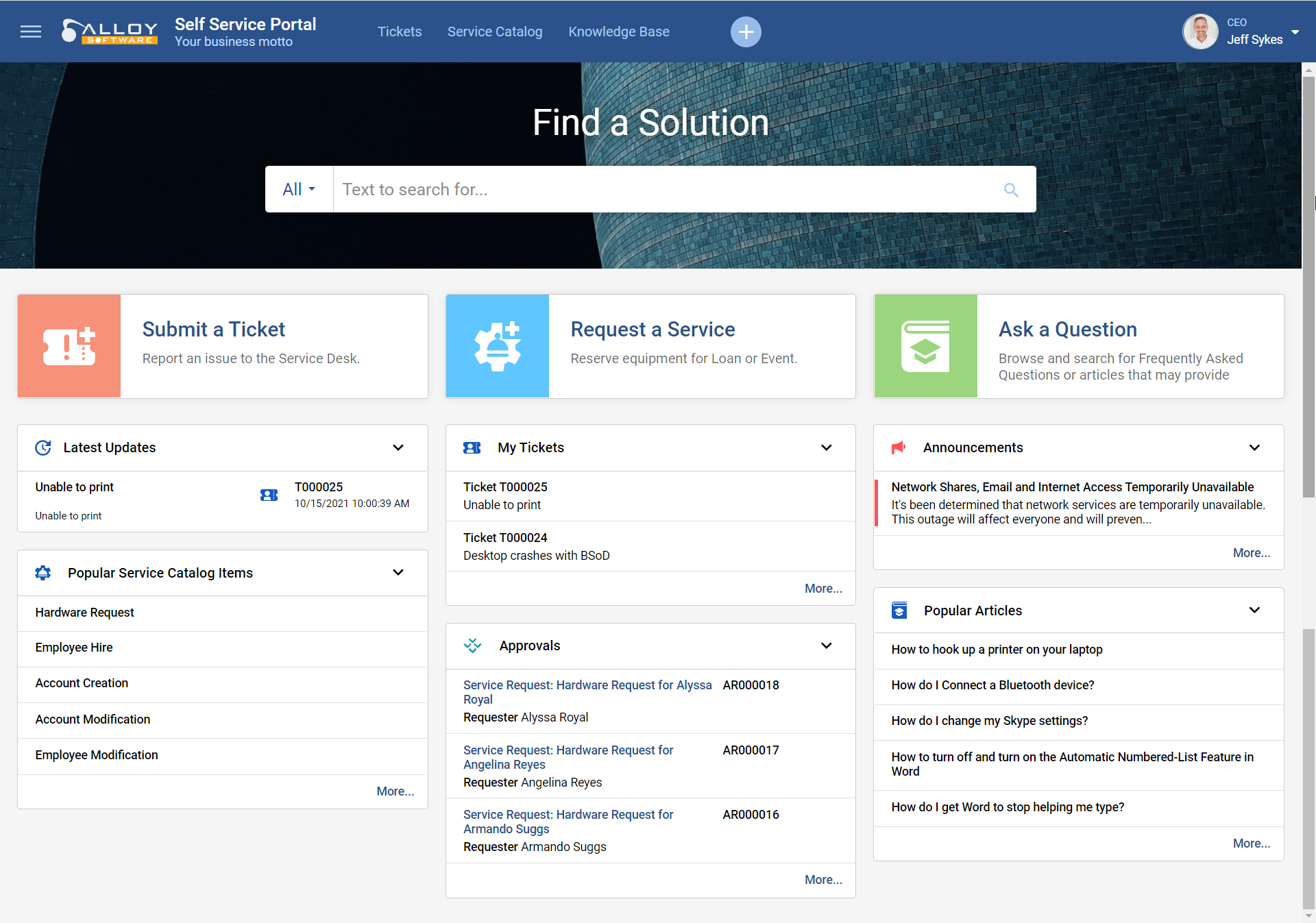 Collaboration on tickets and requests
Sometimes having only two parties involved in the communication related to a ticket or request is not enough. Now requesters and managers can invite their colleagues to collaborate on the issue and monitor its progress, providing a common communication channel for all the participants.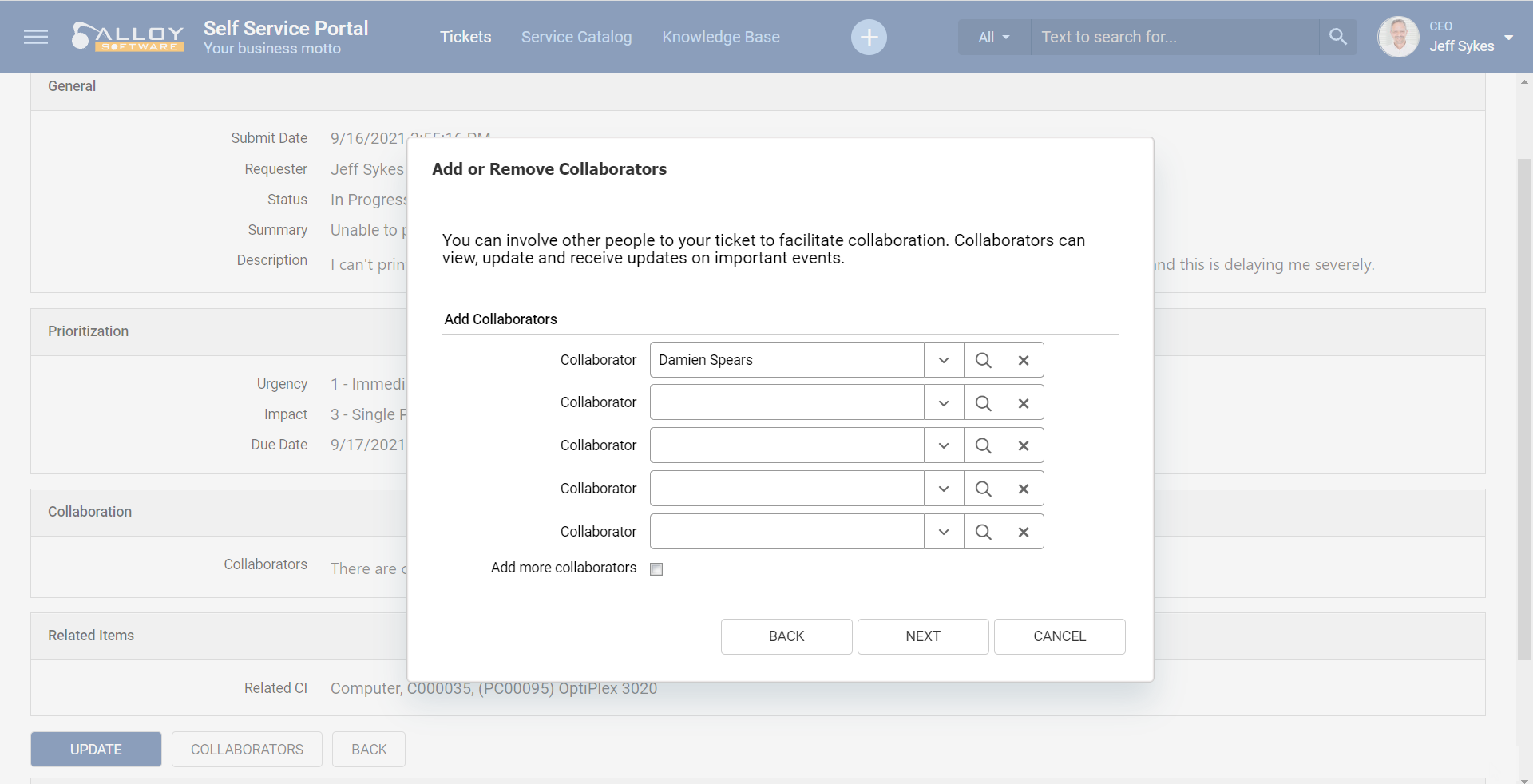 Possible solutions from the knowledge base
Lower your support costs and resolve issues before they get reported! The Self-Service Portal automatically suggests ready-to-use solutions when users are reporting issues. They don't even need to search the Knowledge Base because the submission form immediately shows a list of articles that may help, based on the text the user is typing.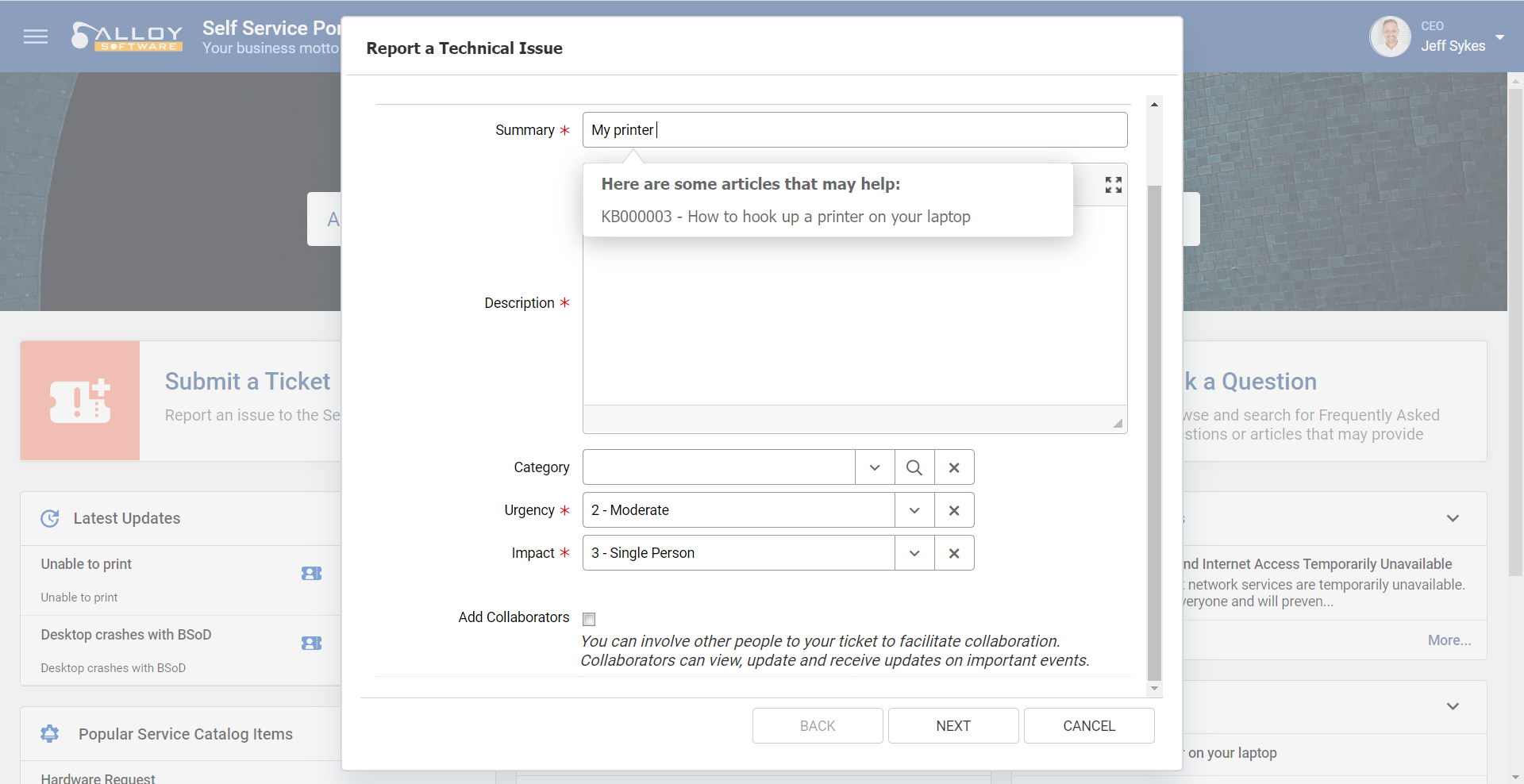 Optimized ticket forms
There is no longer a need to scroll down to update a ticket! The Update Ticket command has been relocated above the history of ticket updates to be easily accessible.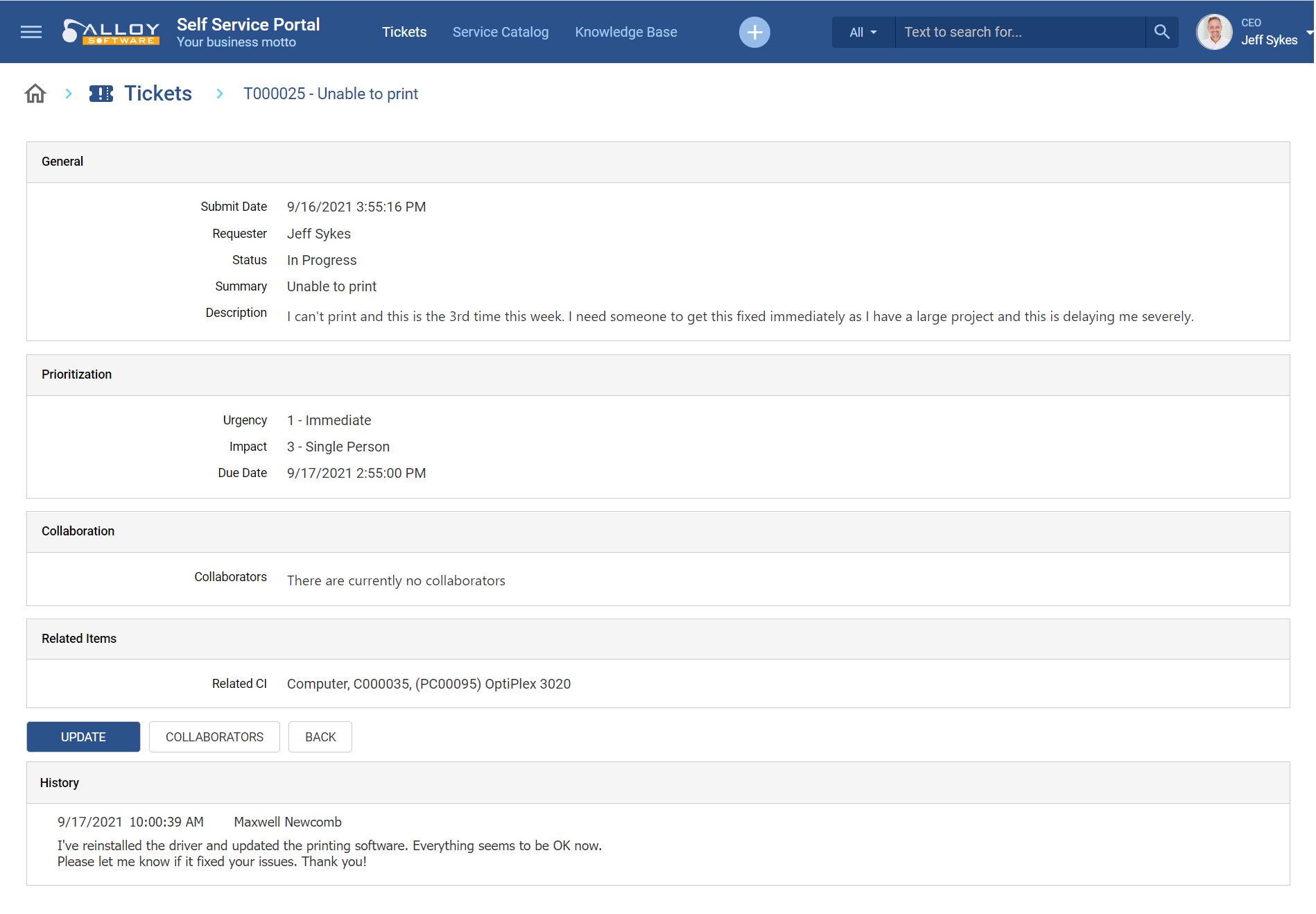 Web App enhancements galore
The Web App for technicians has received a significant face-lift and is packed with new features. Everything is handier, faster, and more beautiful than ever.
New Web App face
The new design of the Web App eliminates distractions and helps your IT team focus on the essentials.
Object forms got a redesign with usability in mind. We've given descriptions and activities a prominent place on the form and moved all vital object details to the side panel, grouping the essentials at the top. We've also made the top pane more informative and added a fascinating new control to preview associated objects in fly-outs.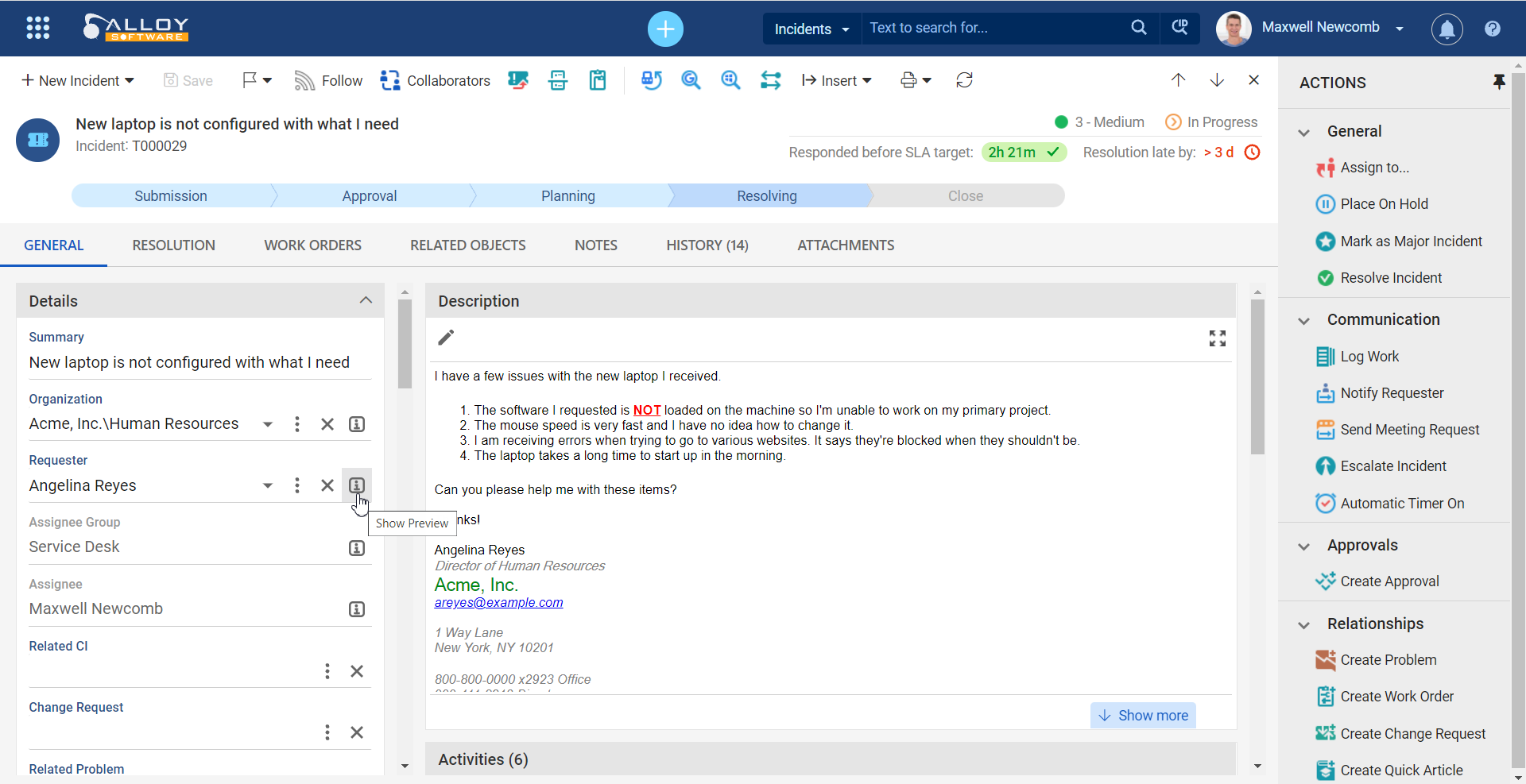 As for Service Support tickets, you no longer need to switch between tabs to get the latest ticket updates. The activity log is now on the same page with the description and other ticket details, and it is the best activity log ever.
Easy-to-follow activity log
Pin essential activities to stay on top of the list, so you can easily find them when you resume work on the ticket, knowledge base article, or another object. The revised activity log comes in a compact, collapsed mode. No more scrollbars! You can expand some or all of the activities to view what you need.
Last but not least, we have replaced a check box for switching between an HTML mode and grid view with a pair of handy controls––Cards and Table.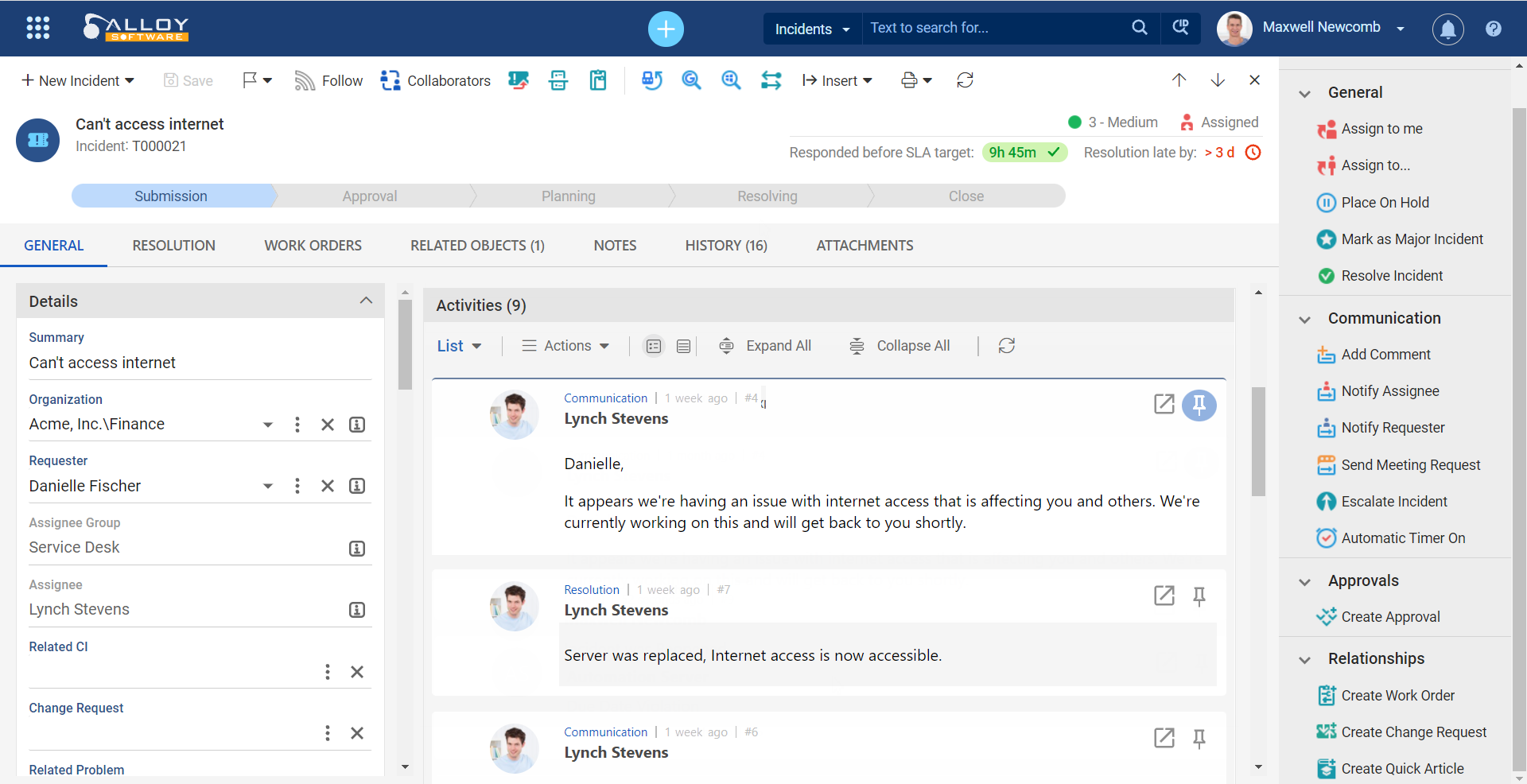 Choose your colors
Customize the look and feel of your Web App and choose from many beautiful premade color themes. Now you can choose colors that suit the unique energy and vibe of your IT services!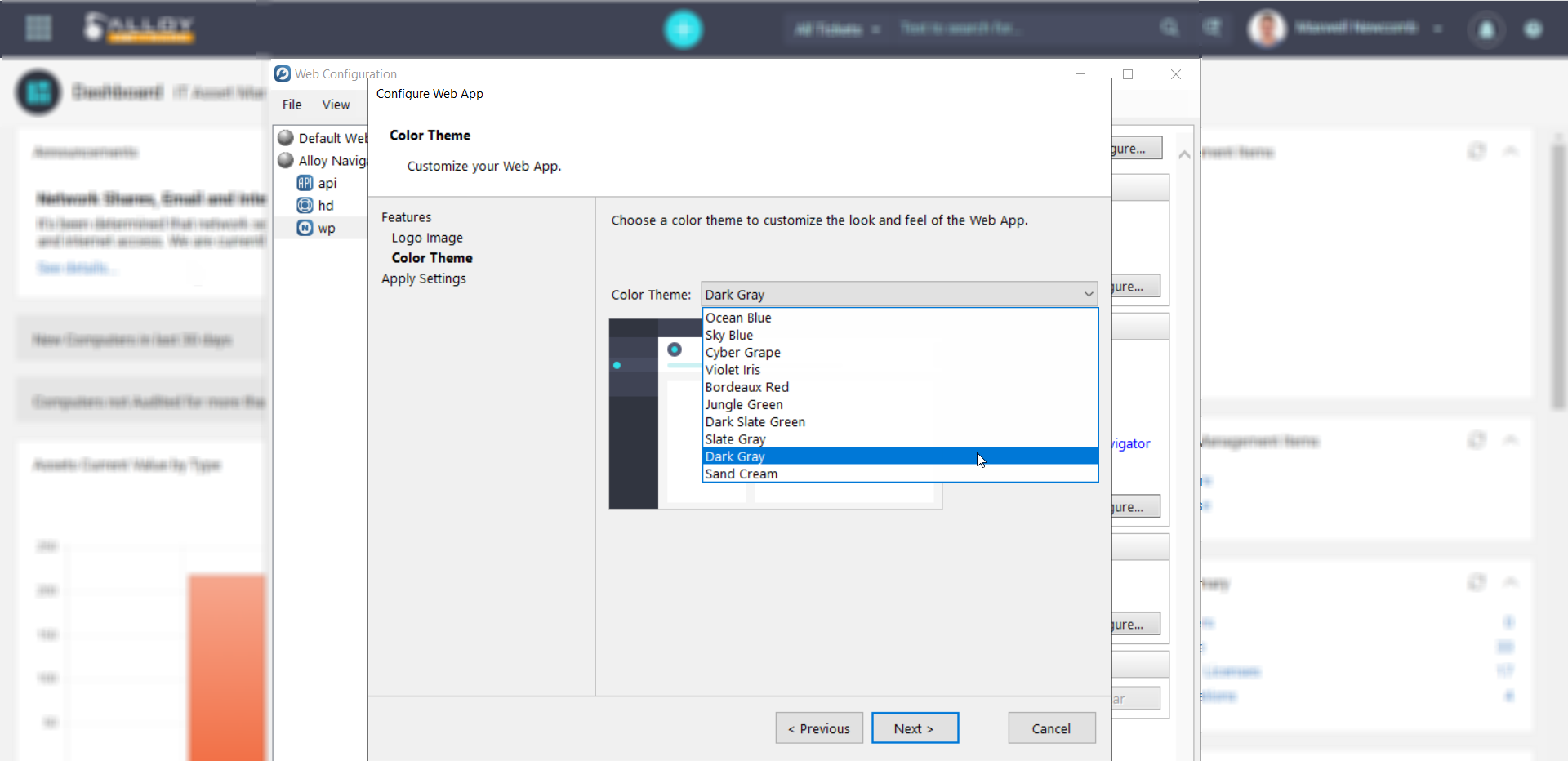 Follow items to keep up with updates
Now you can follow tickets, knowledge base articles, contracts, and other objects to keep an eye on them. The workflow engine would keep followers informed on every change made to the objects they follow and get notified whenever there's a new activity.

Keep your favorites close
Some things must always be at hand. Now you can quickly access all your favorite tickets, assets, and other records. When you mark an item as a favorite, it appears under My Work > My Favorites, where you can organize your favorites and keep them at your fingertips.

Rich format for notes and ticket resolutions
Both the Notes and Resolutions are now in rich HTML format. Technicians can now add images, links, lists and use other HTML goodies when adding notes or resolution comments.
We've also added an indicator that immediately tells you when the Notes and Resolution tabs are not empty.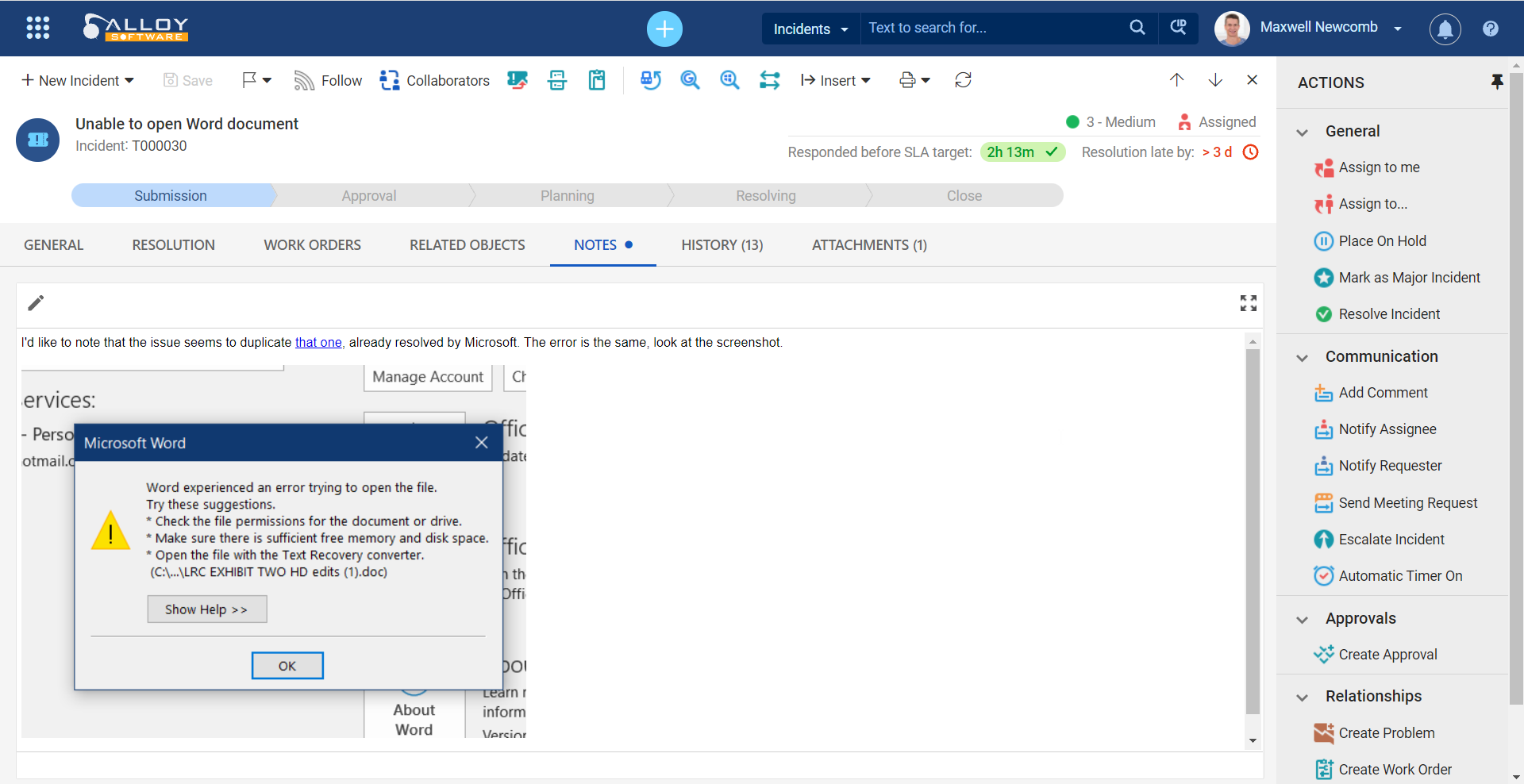 Put workflow actions at your fingertips
The action bar is no longer the only place where workflow actions can live. You can move or copy important and frequently used actions to the toolbar at the top.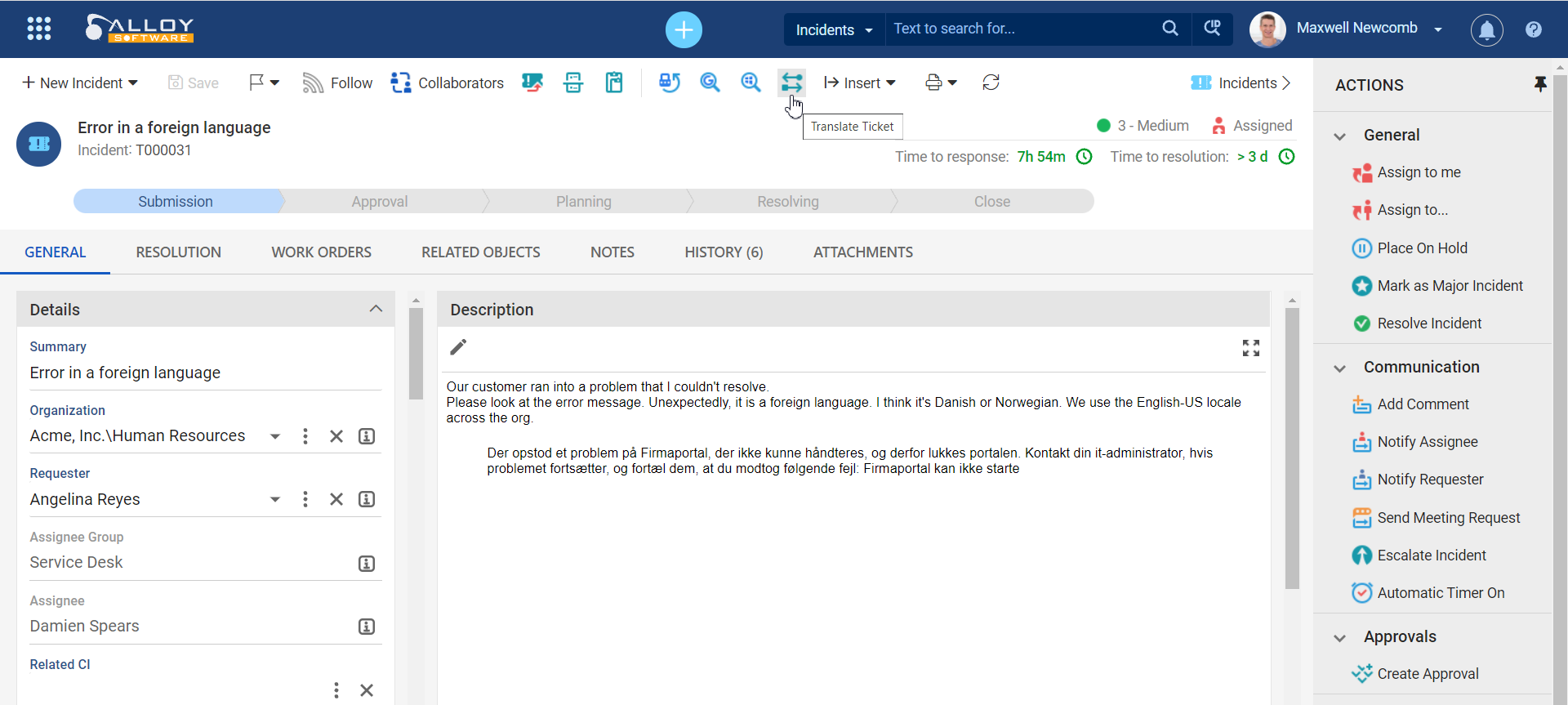 Suppress alerts on archived tickets
Now you can filter out workflow stemming from archiving jobs and decide whether you want to send out notifications on tickets being archived. A set of the Initiator system macros now includes "Data Archiving," so the workflow engine can now recognize archiving operations.
Discontinued and outdated functionality
It's time to say goodbye to some things to make way for innovations. In 2021, Alloy Navigator is dropping support for these outdated features:
SAP Crystal Reports

SQL Server Reporting Services (SSRS) reports, also called Microsoft Builder reports, have already swept away Crystal Reports in Alloy Navigator years ago. With version 2021, we officially announce the end of support for the SAP Crystal Reports integration with Alloy Navigator.

Mobile App Service (former Mobile Portal)

Alloy Navigator mobile app for iOS and Android does not need the Mobile App Service (formerly "the Mobile Portal") as a backend since August 2020. Instead, the native API integration is used. We announced the deprecation of the Mobile Portal in Alloy Navigator 8.7; now, it is removed. If you have continued to use the Mobile Portal as the backend, you would need to switch over your Alloy Navigator mobile app to the native API.

Outdated approval logic from Alloy Navigator 6

In version 6, only Change Requests supported approval logic. In 2014, Alloy Navigator 7 introduced approval workflows for all Alloy Navigator objects—Purchase Orders, Service Requests, Knowledge Base Articles, etc. If you were still using the legacy logic for approvals, you should switch to the new approval logic before the upgrade.
INFO: For upgrade considerations, see Version 8.7 or earlier.
Updates to default workflow
Know which technicians are currently online at a glance

Understand which technicians are currently online and ready to accept work by leveraging a new dashboard chart that reports on which individuals are logged-in and available.

Easily translate multi-language situations using Google Translator integration

Quickly translate alternative languages with the click of a button using Google Translator integration to facilitate open communication with your users regardless of language barriers.

Full API workflow support facilitates easy integration

Integration has never been easier as Alloy Navigator now includes all the API specific workflow you need to save time and effort when making your systems talk to one another.

Automatically assign tickets to technicians only if they are currently online

Achieve a greater level of response by only auto-assigning tickets to technicians who are currently logged-in to ensure customers get the speediest service possible.

Automatic assignment for after-hours and first-shift starts

Cover services around the clock with new auto-assignment options for after-hours and start of day teams with flexibility surrounding services outside main business hours.

Notify users in after-hours situations to advise when service desk is unavailable

After the business day closes, notify your end users to set expectations about the availability of your service desk when after-hours support doesn't exist.

Email notification redesign facilitates clean communication

Streamlined email notifications have been redesigned for a simpler look and feel that ensures communication is clear and simple.

Inactive items remain inactive

Product drop-down lists no longer include inactive items from your Product Catalog when adding line items to purchase orders.
IMPORTANT: When you are upgrading from a previous version, changes to the default workflow may not apply automatically. You may be required to modify your existing workflow to get them. For assistance, submit a request to our Alloy Support Team.
Updated audit tools
Alloy Audit Tools has been updated to version 2021. The latest version adds support to Windows 11 and Windows Server 2022 and delivers other improvements and bug fixes. For a complete list of changes, see Audit Tools Update Release Notes.
Other enhancements and resolved issues
Upgrade improvements
Now you can test drive the upgrade without affecting your production system. A new Sandbox Upgrade option in the Database Management tool allows you to preview and try new features using a sandbox database.

To streamline the installation process, we have removed the Microsoft SQL Server package from the Alloy installer. But do not worry! If you need a SQL backend for hosting your evaluation or production database, the installer will automatically download the proper installation package from our site.

To improve the overall performance, provide richer integration capabilities, and just keep up with the times, we upgraded Alloy Navigator Enterprise to the 64-bit architecture. However, the transition could be a backward-incompatible change in 32-bit environments, encouraging you to switch to the modern 64-bit architecture.

Although we strive to avoid it, sometimes we are forced to break backward compatibility between versions. The new Alloy Navigator Enterprise notifies you of upcoming backward-incompatible changes in advance, giving you time to review them, estimate how they will affect your organization, and perform a seamless upgrade.
Refreshed look with new visuals
To improve the user experience, we have refreshed the Web App, Settings App, and the Desktop App with modern, well-crafted icons for all commands and navigation controls.

As for new workflow actions and flags, we equipped them with our signature beautiful icons and packed them in the Resources folder under your installation directory as Pack3.
Improved Web App
Now you can preview all the essentials at a glance. Preview fly-outs automatically resize to fit the content and show all information without scrollbars.

The ESC button (as well as an outside click) now closes drop-down menus, pop-ups, and fly-outs.

The build-in HTML Editor offers the same full set of commands no matter where in the Web App you use it—in action forms or when editing ticket descriptions or knowledge base article contents.

The Web App now shows a license expiration alert. The alert occurs on the dashboard 25 days before your Alloy Navigator license expires to give your admin enough time to renew it.

Resolved the issues with the Web App when the browser language is set to Polish.

The Attachment Area on action forms now shows the correct attachment size limit when attempting to add oversized attachments.

The Web App now informs users when attachments they attempt to add on an action form exceed the attachment size limit. Previously, the Web App silently discarded such attachments.

Full forms now allow attaching images from the Clipboard by pressing CTRL+V.

Resolved the issue with ticket number sequence skipping multiple values under certain conditions.

Resolved the issue in a scenario where the app keeps asking to install the Alloy Integration Launcher. The issue occurred when the Web App was installed "as a site," i.e., in the root directory and the API module in a virtual directory of that site.

Resolved the issue with the IP Range field that could add underscores to IP address ranges in some cases.

The Web App now automatically resizes user photos uploaded from the Active Directory during Active Directory Sync.

Resolved the issue with the display order of user-defined fields for tickets created via actions that use the full form.

Resolved the "Index is out of range" error on printing detail reports in some cases.
Better dashboards
Fixed the issue with personal table widgets on dashboards showing someone else's data in some cases.

Added the ability to specify the color for line charts. If you do not want random colors in your chart, choose a new "Solid Line" value for the Palette field and pick the desired color.

Table widgets with incorrect syntax in filters no longer show confusing data on dashboards. Instead, they throw appropriate error messages.

AN: The Web App now displays the "Closed" shared view name on dashboards in the correct case.

"Create Actions" widgets now reflect changes you made to action icons.
Revised Self Service Portal
Fixed the "Cannot read property 'loadData' of null" error that could repeat on every ticket update when a custom workflow action was used.

Resolved the issue with the Service Catalog showing all items when you click through pages in a category.

Resolved the issue with the Ticket Update form getting unusable when a Ticket's user-defined field contains a malformed HTML.
Easier workflow management
The Administrative Dashboard in Settings now throws an alert when the number of audited computers is reaching your license limit, giving you time to consider purchasing additional audit nodes or check if you can retire some computers.

To support the new Favorites feature, we have added the ability to manage flag statuses (or colors) via workflow. You can flag objects using workflow operations and check flag statuses in workflow conditions.

To simplify the process of setting up service requests for equipment lending, we have added the ability to use Library Items in the Related CI field for tickets.

User-defined fields of the Reference type no longer adversely affect performance when there is a large number of Person records they refer to.

Resolved the issue with encrypted fields (such as the Password) that could cause the "Could not convert variant of type (Null) into type (OleStr)" errors in the workflow.
Improved email integration
Improved the performance of sending and receiving mail when using Microsoft Graph to access your Microsoft 365 or Office 365 services.

Resolved the issue with the Mail Connector sometimes failing to update objects and throwing the "Access violation at address" error.

Resolved issues with sending notifications with large (~4 MB) attachments via Microsoft Graph API.
Fixes to Active Directory Sync
Resolved the issue with Active Directory Sync not creating Person records under certain conditions.

Resolved the issue when in some cases the Active Directory Synchronization job updates existing Person records when it should be creating new ones.
Better API module and native mobile apps
The Alloy Navigator mobile app now displays Create actions in their proper order, as specified in the Settings App.

Attempts to create closed tickets, retired computers, and other inactive objects via the API no longer cause the "Object does not exist in the database" error. Now the API can create such objects if needed.
Improvements to the Desktop App
Fixed a typo in the Authentication label of the Connection Manager.

Fixed the "No table is specified to retrieve field list" error when opening activity logs in some cases.
Fixes to Alloy Discovery Sync
Implemented a proper sync of discovered installations in Alloy Discovery and Alloy Navigator when the computer is audited multiple times under different user accounts.
Enhanced discovery and audit
When running multiple Inventory Server instances on distributed networks, you can now designate one server as a "primary instance." Having a primary Inventory Server instance greatly improves audit snapshot processing performance.

Improved audit performance in environments with more than one Inventory Server instance.

Improved the error message displayed by the Direct Network Scan when the timeout period expires.

Fixed the issue with canceled "Check for new snapshots" tasks getting stuck in the Task List if the Inventory Server is restarted during their cancellation. This issue could cause failures with receiving snapshots on a schedule.

Improved audit performance in complex network environments thanks to the revised algorithm of querying network hubs and switches.

The audit of Cisco devices no longer fails when we are unable to obtain information from one of their VLANs. The audit completes successfully, while a corresponding message is added to the log.

Corrected the messages logged during the audit of audit sources. Previously, some messages could lead the user to believe that we audit nodes by their DNS names instead of IP addresses.

Improved performance when uploading audit snapshots from hypervisors.
Other changes and fixes
Resolved the issue causing "Incorrect syntax near ')'" errors in the database trace.