Resizing columns
For easier viewing data in a grid, you may want to resize its columns.
You can change the width of grid columns in one of the following ways:
By applying auto-width. This ensures that you can see all the grid columns at once; however, if the content of some columns is too large to display, then that columns' values are truncated in the grid.

By applying best fit. This resize columns in the grid so that all columns' values are fully displayed, although you may need to scroll left or right to view all the grid columns.

Manually, by dragging column borders to the desired width.
To apply auto-width:
Select View > Auto Width from the main menu. Alternatively, you can apply auto-width by checking Column Auto Width box on the Options tab of the Customize View window. For details see Customize View window.
To apply best fit:
Select View > Best Fit from the main menu.
To manually resize a grid column:
Point your mouse at the border line between two column headings and drag it across to the desired width.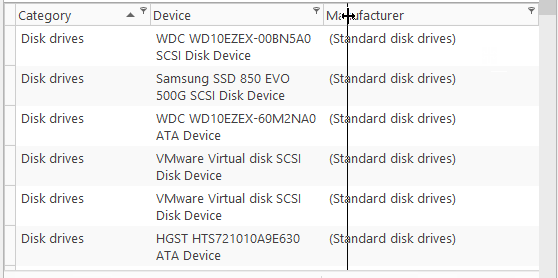 Note: To avoid difficulties with manual resizing, disable the Column Auto Width option first.