Network Inventory
The Network Inventory functionality in Alloy Navigator is delivered through the integration with Alloy Discovery. Alloy Discovery is a network inventory solution which serves as the source of audit snapshots for Alloy Navigator's Configuration Management module. In Alloy Navigator, you can access obtained configuration information and manage the full life cycle of your hardware equipment and software licenses.
In order to synchronize Alloy Navigator with Alloy Discovery, you must set up Alloy Discovery Synchronization in Alloy Navigator.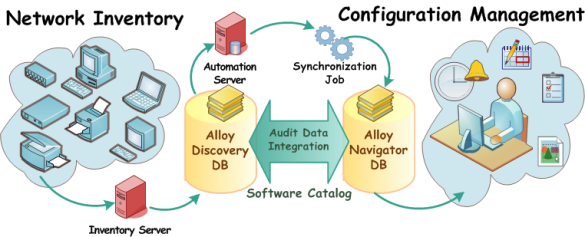 INFO: This chapter contains information on how to set up Alloy Discovery Synchronization and manage audit snapshot data in Alloy Navigator. For information about Alloy Discovery, see Alloy Discovery Administration Guide.