What's new in version 2023
July 2023
Welcome to the Summer 2023 release of Alloy Navigator Express. There are many new features and enhancements that we hope you will love.
New experience in data grids (preview)
We are thrilled to announce a comprehensive redesign of our data grids, bringing forth unprecedented speed, seamless performance, and enhanced efficiency. To experience these remarkable changes, simply toggle the New Experience switch located above data views.
We encourage you to explore the new possibilities and provide us with your valuable feedback during this preview period. Your input is highly valued as we continue to refine and enhance the new data grids. It is important to note that the New and Classic experiences operate independently, giving you the opportunity to uncover the potential of the new data grids at your own pace.

Let's take a closer look at each of the impressive features the New Experience offers.
Cosmic performance

The key advantage of the new experience is its cosmic performance! That translates to lightning-fast loading times for large data views containing tens of thousands of records, ensuring that you can access and view your data within mere seconds.

Auto-refresh

Thanks to the winning combination of incremental auto-refresh and advanced caching technology, the new data grids keep you hooked up with the latest and most accurate data. Moreover, by minimizing data transfer, the network load is reduced, leading to enhanced performance.

Fly-out previews from data grids

View linked records directly from data views. Just click a linked item in a row, and a summary of that item flies out. Note that you can further drill down into related objects from the preview forms as well. To do this, use the Details button.

The layouts of these preview forms can be customized in the Settings App.

Easy record selection

Make a note of the checkboxes in the leftmost column, as they provide a convenient means to select multiple records. This feature enables you to perform actions or execute batch updates effortlessly, facilitating uniform changes across the selected items.

Instant access to customization options

Save yourself valuable clicks by utilizing the gear button located in the right corner of the data view, which allows for convenient customization of your data view. From there you can further refine your data by fine-tuning the filters, making modifications to columns, and adding groupings.

Intuitive filters

Creating filters of any complexity is now a breeze.

Effortlessly customize data filters, including the option for nested logical conditions, using the intuitive filter builder.

And, for those advanced cases that require SQL queries, now you can combine SQL filtering expressions with regular ones, making your filters easier to manage.

Easily configure your data layouts

Enjoy the convenience of drag-and-drop functionality when rearranging columns on the Customize View pane. Click More to add more columns to your view. Click the three-dot menu next to each column to display summary statistics for the column, group by it, or remove the column from the view.

Here you can also easily customize the groupings for your data view. You can easily customize the groupings for your data by simply dragging and dropping a column into the Group By box, and then selecting its desired sorting order.

Live-editing

Now you can easily preview your customizations and make sure that everything is just right before you save them.

To reflect your modifications to the current data view without saving it, click Apply. To start over, click the Reset button in the right corner of the Customize View pane. Once you are satisfied with your customizations, click Save to preserve the changes.

Simplified shared access to views

Sharing data views with your teammates is now easier than ever.

When you create a new data view, it initially functions as your personal view. After fine-tuning and completing the necessary customizations, clicking Share in the context menu will extend access to others, making the data view readily available for collaboration.

To do this, you need to have the Shared View Management permission.

Hide unneeded views

Simplify your workspace by effortlessly hiding the data views you no longer need. This convenient feature reduces the clutter, allowing you to focus on what truly matters. You can easily unhide hidden views when needed.
INFO: For differences between the new and classic experiences in data grids, see online help.
Redesigned search with reusable search criteria
Searching for specific items has become remarkably convenient, particularly for frequently repeated searches. The redesigned search functionality now supports the reuse of search criteria, saving you valuable time and effort. When you perform a search, you have the ability to save your search criteria, including additional filters and options. This allows you to easily reuse them in the future without the need to manually set all the options again.
We've also added a new built-in filter by creation date, with handy presets like "This week", "This month", or "This year so far."

Preview contact details
With this update, you can now easily preview the personal details of a ticket requester, asset owner, or any other person. Simply hover your mouse cursor over the person's name, and the relevant information will be displayed in a pop-up box, providing you with quick and convenient access to important details.

Faster selection of related
assets
The process of selecting related assets when working with Service Support tickets has significantly improved in terms of efficiency. Now, you can easily distinguish between the requester's CIs and all available CIs, streamlining the selection process. Furthermore, there are other remarkable features that enhance the effectiveness and simplicity of your work, making your overall experience more productive.
Requester's Assets toggle

We understand that in most cases, technicians in Alloy Navigator Express are primarily searching for assets owned by the ticket requester. To simplify this process, we have introduced the Requester's Assets toggle, allowing for effortless switching between viewing all assets and specifically those owned by the ticket requester.

This convenient feature ensures that technicians can easily focus on the relevant assets during their workflow, enhancing efficiency and productivity.

Type-ahead search

The Related Asset fields on ticket forms now come equipped with type-ahead search functionality. As you start typing in these fields, the drop-down list will dynamically present only the values that match your input. This intelligent feature allows for quick and easy selection of the desired value from the narrowed-down suggestions, enhancing your overall efficiency and workflow experience.

Wide-area search

When you're searching for a specific item, simply click the ellipsis button in the Related Asset field to initiate your search. The enhanced Select object from list dialog box opens, offering a comprehensive search experience.

Within this dialog box, you can:

Narrow down your search by specifying the asset class, such as software licenses or inventory items
Easily toggle between All Assets and Requester's Assets, depending on your requirements
Further refine your search by applying additional criteria, such as searching in history or filtering by created date
Save your search criteria for future use, allowing for quick access to recurring searches
Utilize the customization capabilities of the new data grids to explore and analyze your search results in depth
Work with related objects from the map
Experience a new level of convenience and efficiency as you can now perform workflow actions on related objects directly from the relationship map, without the need to open them individually or navigate away from the map. Simply click the newly introduced three-dot icon

next to a related object, and a context menu will appear, presenting you with a range of actions to choose from.

Have a quick peek at calendar items
Enjoy the convenience of previewing Alloy Navigator Express objects from My Calendar without the need to open them or navigate away from the calendar. Simply right-click on a calendar item and select Details from the context menu. This allows you to quickly view the details of the item without interrupting your workflow. Additionally, the context menu provides options for opening objects in a new tab or on the current tab, based on your profile settings.

Add multiple members to a group
Accelerate the process of adding multiple people to a group with our improved functionality. You can now select multiple technicians at once when adding group members. The updated Select person dialog box introduces a filter box for quick search, along with a range of convenience features from the New Experience data grids.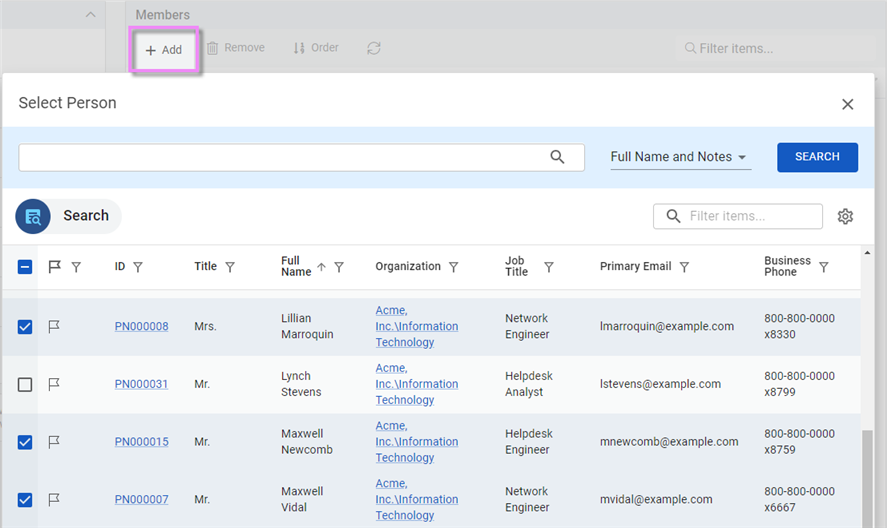 View the most recent data at the top
We understand the importance of accessing the most recent data quickly and effortlessly. To enhance your experience, we have made updates to all default data views, including those on the dashboard. Now, the chronological order of these views has been inverted to display the most recently added records at the top, eliminating the need for excessive scrolling.
Handle all the main admin tasks from a web browser
Since its introduction last year, the web-based Admin Center has experienced continuous expansion with each subsequent release. It now encompasses all essential administrative functions. This development enables Alloy Navigator Express administrators to effortlessly execute their routine tasks directly from their web browsers, without the need for any installations. The Admin Center has become an essential tool for our cloud-based customers, while on-premises customers also appreciate its convenience for performing administrative tasks seamlessly.
Let's take a look at the newly added features.
Email Processing - Configure how Alloy Navigator Express converts incoming email messages to tickets via the Mail Connector.

Services > Scheduled Reports - Enable auto-generation of the default Daily SSP Searches report and schedule auto-generation of other organizational reports.

Services > Scheduled Tasks - Enable pre-configured scheduled tasks for default workflow integrations, such as Microsoft Intune Integration or Microsoft Azure AD Integration.

Services > Mobile Applications<![CDATA[ ]]> - Manage configuration of Alloy mobile applications (Alloy Navigator, Alloy Self-Service, Alloy Inventory Scanner, and Alloy Self-Service Assistant bot for Microsoft Teams) and other external mobile apps, integrated with Alloy Navigator Express via the API.

Automation Server - View all automated jobs in Alloy Navigator Express, access their details, enable or disable them, force some jobs to run immediately, or terminate non-responding jobs.

Logs<![CDATA[ ]]> - View and manage all logs in Alloy Navigator Express and configure sending administrative alerts whenever a failure or an event requiring the admin's attention occurs.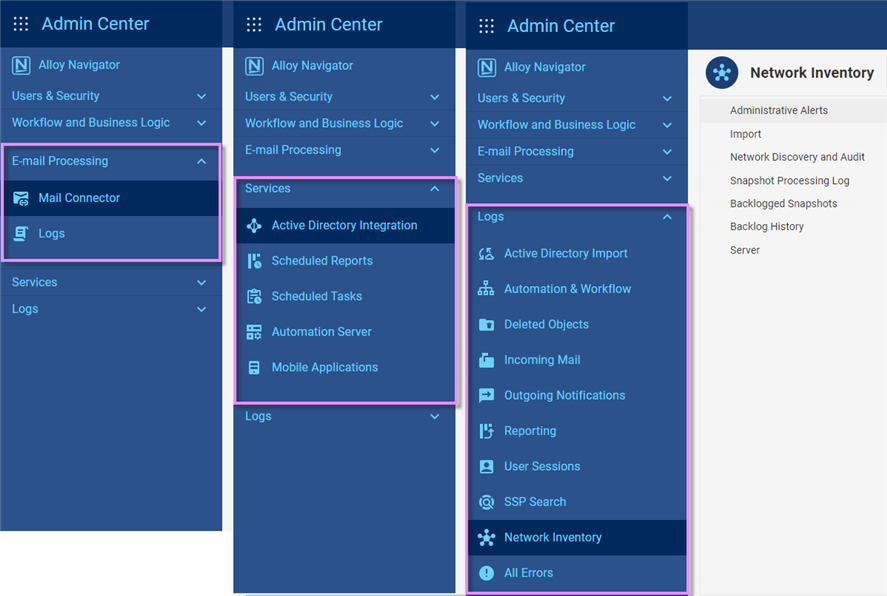 Customize the display order for categories
Introducing a new feature that puts you in control of the display order of categories in the knowledge base. You now have the ability to customize and arrange the order in which categories appear, allowing for a tailored and intuitive browsing experience. This enhancement empowers you to present your knowledge base in a way that best suits your organization's needs, ensuring easy navigation and efficient access to relevant information.

Navigation anchors and code snippets
Create a professional-looking knowledge base for your Self Service Portal customers with these new features.
Anchors

Introducing a powerful new feature: the ability to insert anchors within your knowledge base articles and create links to them. By strategically placing anchors at specific positions within an article, you can enhance the user experience by adding a table of contents and enabling readers to navigate directly to relevant sections without the need for scrolling. This functionality allows for seamless navigation within lengthy articles, improving accessibility and making it easier for readers to find the information they need.

Code snippets

We have introduced a new feature that allows you to incorporate code snippets into your knowledge base articles. This feature is particularly useful when sharing ready-to-use solutions or providing code examples. When you insert a code snippet, it will be formatted in the specific coding language you specify. This not only enhances the readability of the code but also enables readers to easily copy the entire snippet for reuse. Empower your readers with the ability to access and utilize code snippets effortlessly, making your knowledge base even more valuable and practical.
NOTE: You can also use new anchors and code snippets in other HTML fields, such as tickets' descriptions and activities.
Self-Service Portal in Swedish
Enhance your self-service support capabilities by providing effective assistance to your global customers in their preferred language. We are pleased to announce the addition of a new localization pack for the Self-Service Portal—Swedish (Sweden). With this latest addition, you now have access to a total of twelve language packs, ensuring that you can cater to a diverse range of customers worldwide.
Localization support for text elements on forms
We have further expanded the localization capabilities of Alloy Navigator Express to cover all text elements, including custom instructions and descriptions within the default Self-Service Portal workflow forms. This means that you now have the ability to localize and tailor these texts to meet the specific needs of your users. Whether you need to provide instructions in multiple languages or customize descriptions for better clarity, our enhanced localization mechanism has got you covered.
Enjoy a fully localized Self-Service Portal experience, ensuring seamless communication and improved user engagement across your organization.

Sleek drop-down lists
We have revamped drop-down lists, both multi-select and lookup, across all forms in every application, ensuring they are not only more user-friendly but visually appealing as well.
In order to enhance navigation through lengthy lists, we have implemented a time-saving feature where only the first 100 records are displayed initially. Additionally, the user interface provides a helpful suggestion to start typing, allowing you to quickly narrow down the list to find the desired option.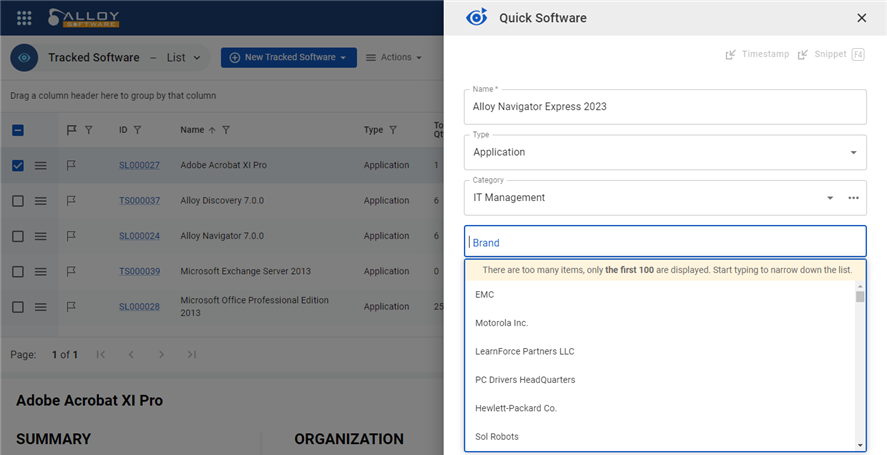 Support for the application/json in the Alloy API
The Alloy API has become more accessible and easier to integrate with other tools or systems. This version adds support for the "application/json" content type when requesting access tokens. This format is widely used and well-documented, so you may find it more convenient than the default "application/x-www-form-urlencoded" content type, which used to be the only option in earlier versions.
INFO: For details, see API User's Guide: Obtaining an API Access Token.
Updated audit tools
Alloy Audit Tools has been updated to version 2023. The latest version adds support to the most recent version of macOS, Ventura, also known as macOS 13, and delivers other improvements and bug fixes. For a complete list of changes, see Audit Tools Update Release Notes.
Workflow updates
To provide a complete record of a ticket resolution, all attachments added during the resolution now can be automatically added to the final notification sent to the ticket requester. This behavior is controlled by a new workflow configuration parameter, available under Workflow Configuration > Tickets Automation. Administrators can adjust workflow parameters using the web Admin Center or desktop Settings App.

The "Assign to" workflow action has been enhanced with the ability to assign tickets and change requests to a team instead of a specific technician.

Added an out-of-box escalation for notifying the whole assignee group when a new ticket is assigned to a group.

Now you can take control of your database size and optimize performance by scheduling the deletion of older attachments and history records. Initially, this auto-purging is disabled. Administrators can enable it and adjust the workflow parameters under Workflow Configuration > Administration > Attachments / History, in the Admin Center or Settings App.

To help technicians track tickets that have not been assigned yet, we have added the Unassigned Tickets data view to the Alloy Navigator mobile app.
Time spent reports
To provide direct insight into how time is spent in service support teams and help stakeholders better visualize and manage resources, we've added new time tracking reports, or timesheets, that will bring "time spent" to light.
Time Spent List

This report shows how much time your IT pros spent on tickets and change requests during a specified period of time, with the level of detail of your choice.<![CDATA[ ]]>

Time Spent List by Category

Introducing the Time Spent List report, now organized and grouped by ticket category.

Time Spent List by Assignee Group

Presenting the Time Spent List report, now conveniently grouped by team, also known as "assignee group."
Other enhancements and resolved issues
Integration with email
Complying with Google's new OAuth 2.0 requirement for Gmail sign-ins, we have introduced a new integration option for connectivity with Google Mail for incoming and outgoing email. For details, see https://support.google.com/accounts/answer/6010255.

INFO: For instructions, see Help: Configuring Google Mail with OAuth settings and Help: Configuring e-mail notifications for Google Mail with OAuth.

Streamline your integration with Exchange Online by leveraging the newly added capability to use a custom app registered in your Azure portal. This enhancement allows Alloy Navigator to establish a connection with Exchange Online via Microsoft Graph.

INFO: For instructions, see Help: Configuring Microsoft Exchange Online settings and Help: Configuring e-mail notifications for Microsoft Exchange Online.

Enhanced support for custom notifications includes the automatic addition of a MessageID identification tag to the subject line of all outgoing notifications. This special tag facilitates seamless association of replies with the corresponding object in Alloy Navigator Express.

Streamline the setup process for email integration with Exchange Online using OAuth authentication (Microsoft 365). Admins are no longer required to have Internet Explorer configured on their computers to obtain access tokens. Instead, the integration now leverages the user's default browser, eliminating the need for additional configurations.

Incoming HTML messages with hundreds of nested <div> tags can no longer crash the Mail Connector service.

Added support for integration with Exchange Online for users whose domains are registered in Microsoft Cloud for US Government.
Web App
Using date/time operators in conditional formatting rules no longer causes the "The method or operation is not implemented" error when customizing data views.

Resolved an issue that could cause some Knowledge Base articles to appear blank when attempting to print them.

Resolved an issue that could occur when attempting to execute a create action. In rare cases, this resulted in the following error message: "GetLookupDependItemList. Error: 'NaN/NaN/NaN' is not a valid date and time."
Web App: data grids
To avoid confusion, the context menu command Export All for hierarchical data grids (Organizations and Locations) is now called Export All Rows on Current Page to accurately reflect its functionality.

TIP: To capture the complete dataset in the exported file, increase the number of rows per page.

Added the ability to include the Product field in data views for Inventory Items.

Resolved the issue that could cause a "Field or property was not found" error on opening a data view from a dashboard chart with drill-down support and then switching to another data view from there.

Resolved an issue with the Load All button unexpectedly disappearing from data views when a filter was applied, and reappearing when the Preview pane was resized.

Resolved an issue that was preventing users from viewing the second page of a grouped view. When trying to view a grouped view, it collapsed and reloaded, bringing the user back to the beginning.

Addressed issues with the deletion of two or more adjacent records from a data grid one by one.
Web App: forms
Added the ability to paste attachments from the Clipboard using CTRL+V when working with workflow forms and full forms.

Clicking the Back button on an object form opened from a dashboard now brings you back to the dashboard, as expected.

Resolved the issue with Web App preview fly-out forms not honoring customized field labels as expected.

Resolved an issue that occurred when creating a new person. The Save button could become grayed out on a tab in the new person's profile, causing unsaved changes when navigating away from the page.

Resolved an issue that could prevent using customized actions in the Web App.
Self Service Portal
Resolved the issue with the search feature including unavailable Announcements in the results.

The Latest Updates widget no longer duplicates tickets' summary instead of showing the latest activities' details.

Resolved the issue with the regional currency format not being applied to read-only fields on workflow forms.
Dashboard
Implemented proper rendering of special characters in the body of the announcements shown on dashboard.

Resolved the issue with dashboard charts sometimes opening empty views when drilling down into chart elements.
Reports
Now you can print out purchase orders from your Alloy Navigator Express using the new Standard Purchase Order detail report. This allows you to review orders and then send them to suppliers. The report is available in the PO full form, under the Print menu.

Resolved the issue with Scheduled Report jobs that could cause them to fail with the "Failure to process data from the external source" error in some cases.

Addressed an issue that would not allow generating reports with SQL query-based parameters, such as Assets by Location, Computers to Upgrade, etc.

Online documentation has been updated to emphasize the fact that custom SSRS reports must have the Use single transaction when processing the queries option turned off in their data sources.
API
In earlier versions, users could receive error 401 on attempts to configure single sign-on (SSO) for external apps via the API. Now the API gives informative error messages, helping users understand their problem and configure SSO properly.

Implemented proper handling of invalid XML characters in API requests.
History log
All "Added Activity" events are no longer tracked and have been removed from the history log to eliminate redundancy. Users can always access added actions directly from the object's action log. As for changed or deleted activities, objects still track such changes in their history log separately. This change helps keep the database size under control and optimize the performance.
Admin Center
Experience enhanced convenience when setting up Alloy Discovery Synchronization. The SQL Server name is now automatically detected from the provided connection information, eliminating the need for manual entry by admins.
Visual improvements
Improved the layout and appearance of fly-out previews.

The module menu at the top of workspace has been redesigned for enhanced user experience.
Discovery and audit
Resolved the issue with audit agent being unable to transfer audit snapshots via SFTP when Azure Blog Storage is used.

Setting the read-only attribute on the Windows audit agent executable file (ina32.exe) no longer affects the audit process. Previously, the Direct Network Scan would fail, throwing the "Error uninstalling agent" error.

Resolved an issue that could cause memory usage concerns and Inventory Server failures upon attempts to process some audit snapshots.
Alloy Navigator Express Desktop App
The Preview Pane for Computers now correctly shows units of measure (GB) for RAM.