How to configure auto-prioritization of Tickets
Alloy Navigator Express' default workflow provides a set of rules (Ticket Prioritization Business Policy) for prioritizing Tickets. These rules apply the necessary calculation every time a Ticket is created or modified. You can use these configuration as is, or customize it as needed.
Alloy Navigator Express uses the default Ticket Prioritization policy to populate the Due Date of the Ticket as displayed below.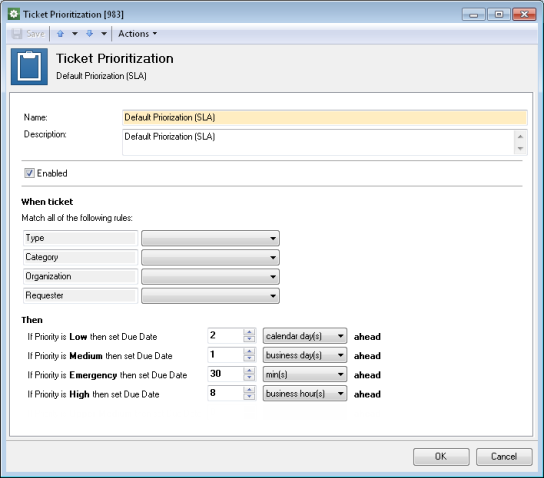 This default policy does not have any conditions (i.e. have "any" in every row under When ticket) and applies to all Tickets. ANX calculates the Due Date when the Ticket is created and re-calculates the Due Date when the Ticket Priority or Submit Date is changed.
Result: Ticket's Due Date is populated in accordance with the its priority.
However, some categories, departments, or VIPs may require higher priority than others. You can create several policies with different conditions and different rules for calculating the Ticket's Due Date. Each policy will be triggered when all its conditions are true.
In addition, you can expand the default Ticket Priority lookup list with additional items and specify prioritization rules for your custom Priority values. Note that the Ticket Prioritization dialog will show your custom Priority values at the bottom.
Custom rules for calculating the Due Date for Tickets: