Creating Approvals
To create an approval, go to the Web App or your Desktop App and follow the steps below:
Open the object for which you want to create an approval (Change Request, Work Order, KB Article, Incident, Service Request, or Purchase Order).

In the Action Bar on the right, click Create Approval. The Create Approval wizard opens.

Type in the reason for the approval request in the corresponding field.

Choose how you want to add approvers:

Choosing a group - only members within this group have the authority to accept or reject requests. Click Next and select an Approval Group from the drop-down list.

Choosing individuals - only assigned individuals can make approval decisions. Click Next and choose individual approvers. Optionally, specify a type for each approver: Financial, Manager, or Technical.

Click Next.

In the Type field, choose a voting method: Any Approved, Majority Decision, Required Percentage, Sequential Approval, or Single Vote Rejection. Click Next.

If you chose "Required Percentage", specify the minimum vote percentage. If you chose "Sequential Approval", specify the single vote timeframe in hours. Click Next.

Optionally, attach files related to the approval request. Click Finish to complete the wizard.

Repeat steps 2—7 if you need to create more approval requests for this object (e.g. with different approvers or with a different approval method).
RESULT: The workflow engine generates the approval requests based on the information you entered, and the approvals receive notifications.
The Approvals tab of the object record dialog box displays approval stages (see the figure below) along with individual approval requests. Here you can see the current status of each approval stage and individual approval request (Pending, Approved, Rejected, Not Required, etc.). This helps you keep track of the overall approval process for the object.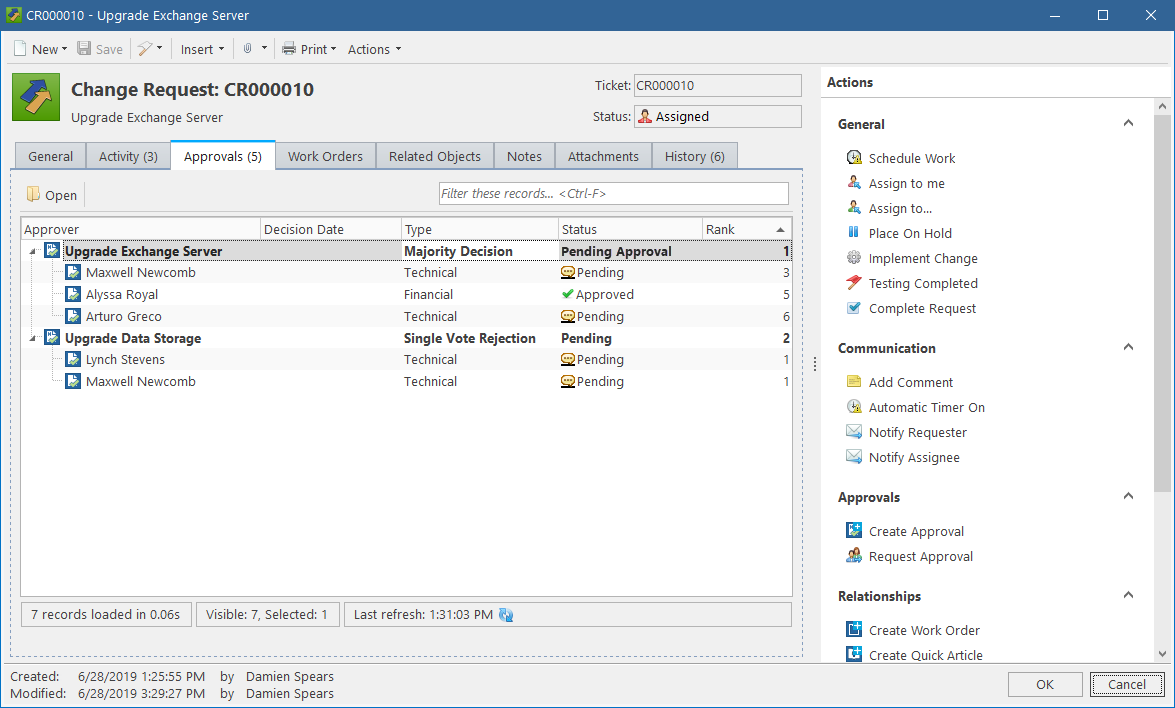 Double-click an approval stage to open its details. In the
Approval Stage
dialog box, you can make changes to the Approval Stage. For example, you can change the voting method using the
Type
field under
Categorization
. You can also add, remove, or change approvers using the
New
,
Delete
, and
Actions > Change Approver
buttons under
Approval Requests
.